Pat Slattery In Conversation With Neale Donald Walsch (Author of Conversations With God)
About this event
Neale Donald Walsch has written 39 books on contemporary spirituality and its practical application in everyday life.
With an early interest in religion and a deeply felt connection to spirituality, Neale spent the majority of his early adult years thriving professionally, yet searching for greater meaning in life.
He has said that this yearning let to a series of deeply personal spiritual encounters which he experienced as direct exchanges with the Divine.
A series of books titled Conversations with God emerged from those moments, and has been translated into 37 languages.
Seven books in the series reached the New York Times bestseller list, Conversations with God-Book 1 remaining there for over two-and-a-half years. 
His latest book is The God Solution, published in December, 2020, which invites humanity to embrace a new global ethic based on a refined and clarified definition of God.
The book proposes that there is a single statement of spiritual truth upon which all the world's religions could agree, and which would birth a shift of spiritual paradigms around the globe of such magnitude that it would produce peace and happiness on our planet at last.
Join Pat as he chats with Neale about his experiences and the purpose of life.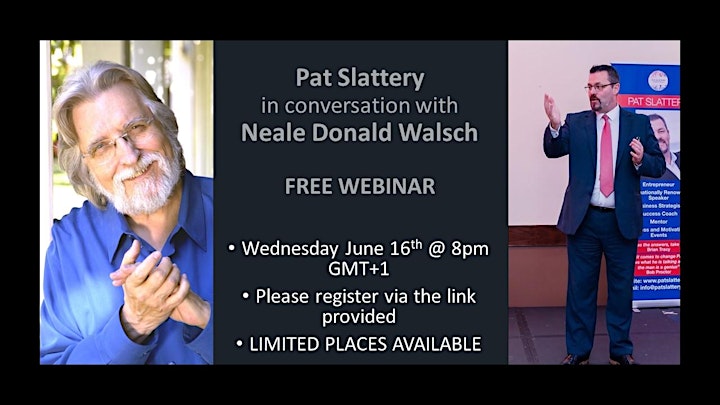 Organizer of Pat Slattery In Conversation With Neale Donald Walsch
Pat has studied, researched, written and spoken for 20 years in the fields of Business and Personal Development. Pat is internationally, a known lecturer, consultant in personal and business development, and has worked with government agencies, colleges, companies, and non-profit organisations in the areas of training, mentoring, motivation and communication.

Having masterminded with some of the world's greatest business and personal development strategists, Pat is one of the world's leading experts in personal and business development.

Leaving school at 14yrs old and going into the workplace created a vast amount of practical experience, from which Pat went on to grow a number of very successful companies creating multiples of millions of Euro for both Pat and his partners. He also went back to college and graduated in business and law.

He is a frequent communicator on radio, business magazines and other media sources, and has conducted seminars and workshops on various aspects of personal and business development which have been attended by thousands of people.

He has written and produced audio and video learning programs that have been used by thousands of individuals and companies.

He speaks to corporate and public audiences on the subjects of Personal and Professional Development, including the executives and staff of many of many large companies and organisations.

His exciting talks and seminars on Leadership, Selling, Self-Esteem, Goals, Strategy, Creativity, Change and Success Psychology bring about immediate changes and long-term results.
What Others Say About Pat
"When it comes to change, Pat knows what he is talking about, he really knows his stuff. The Man is a Genius" - Bob Proctor  
"Pat knows the answers. Take heed" - Brian Tracy
"Business and Financial Education are vitally important if one is to succeed in the cut and thrust world we live in today. Throughout my formative years I was told that hard work would deliver the success I desired, but if that were true all the hard working business people I know would be successful, and they are not! I have learned that it is HOW one sets up one's business and HOW one prosecutes one's financial life that delivers far more success than simply "hard work" alone. Pat has a proven track record in delivering to his clients both one-to-one and group Business Coaching and I would urge anyone interested in improving the outcome of their business efforts to speak with Pat to see how he may be able to assist you."
Paul Ovary – Author and financial coach
"Many of my clients have attended Pat's coaching programmes over a protracted period and have improved their businesses as a result of identifying their own strengths and weaknesses, developing inner powers and organising accordingly." 
Pat Finucane, Senior Projects Director, FDC Accountants
"Pat is one of Irelands leading motivational and inspirational leaders and speakers. He has spoken at our large Powerteam Personal Development Seminars and we got a great reaction to his delivery. Pat has the ability to move you emotionally with total heart and soul, to step up in business and in life and follow your dream." 
James Martin, Owner & Lead Trainer, TeamLife Training
"Pat is a fantastic speaker and mentor. His presentations are motivating, inspirational and he has the real experience to back it up. I have heard Pat speak on a wide range of topics and each time, there was always something new, value that I could use. Even when speaking to a large group, Pat seems to be speaking to you personally. 

Pat is a powerful, passionate and persuasive speaker, and his ability to ignite any audience into action is remarkable. It makes him one of the most exciting, relevant and memorable speakers in the world. 

Pat is dedicated to helping and inspiring others to be the best that they can be. He has a fantastic ability to inspire and motivate others in the areas of personal or business development. Working with Pat equals outstanding results."
Ann McIndoo, Author and CEO, So, You Want to Write