The NAI is launching a national campaign, 'Patients Deserve Better', calling for investment in nurse specialists across neurology services.
About this event
You are invited to the online launch of the Patients Deserve Better campaign on Tuesday, 18th January at 12.00pm.
Bringing together over thirty non-profit organisations, our new campaign seeks investment to tackle the serious shortage of nurse specialists across neurology services in Ireland.
Neurology patients have been historically underserved by the health system, facing delayed diagnosis and treatment. Neurology patients deserve better.
Based on local and international recommendations, University Hospital Waterford needs six nurse specialists in neurology. The hospital has just one; a shortfall of five nurse specialists caring for people in Waterford and surrounding counties.
There is a current shortfall of over 100 nurse specialists in neurology in the Irish healthcare system. Increasing the number of nurse specialists in neurology will reduce waiting lists, free up hospital resources and deliver real improvements for neurology patients.
Speaking at the launch of the Waterford campaign will be:
Magdalen Rogers, NAI Executive Director;
Ged O Connor, Consultant Neurologist at University Hospital Waterford;
Maire Hayes, Clinical Nurse Specialist in Neurology; and
Valerie O'Shea, Person Living with Multiple Sclerosis.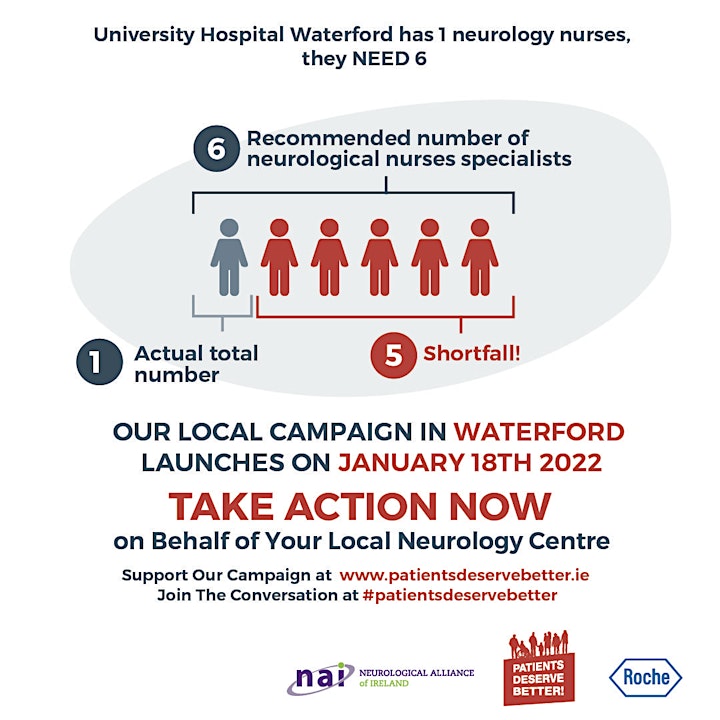 Organiser of Patients Deserve Better Waterford Launch

Neurological Alliance of Ireland (NAI)  www.nai.ie

The Neurological Alliance of Ireland is the national umbrella body for over thirty not for profit organisations working with people with neurological conditions. It aims to promote the development of services and supports for people with neurological conditions and their families throughout Ireland and greater understanding of their needs through policy development, advocacy, research and awareness raising.The work of NAI is supported by the  SSNO funding scheme for national voluntary and community organisations administered by Pobal.