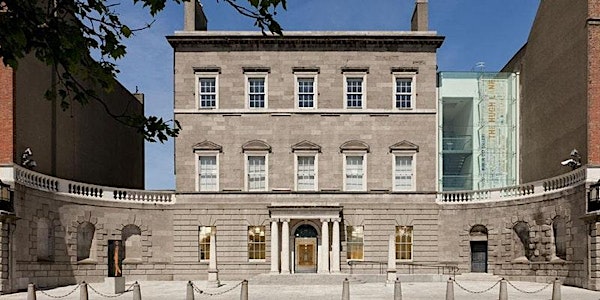 Patrick Graham Study Morning
Patrick Graham Study Morning
When and where
Location
Dublin City Gallery The Hugh Lane Parnell Square North D01 F2X9 Dublin Ireland
About this event
Join us for this Study Morning talks event when themes arising from the Patrick Graham: Transfiguration exhibition will be explored with contributors including: Michael G Cronin, Lecturer in English, Maynooth University specialising in twentieth-century and contemporary Irish literature and in sexuality studies; filmmaker and activist Grace Dyas, art writer and researcher Michaële Cutaya; and poets Theo Dorgan, Jessica Traynor and Annemarie Ní Churreáin.
Chaired by Declan McGonagle.
Book here or come on the day subject to availability.
SCHEDULE
10.00am
Welcome
Head of Education and Community Outreach Jessica O'Donnell and Prof Declan McGonagle, Chair.
10.05 – 10.30amThe Two Surfaces of Painting:
Michaele Cuttaya, writer, researcher and editor on art
10:35 – 11.00amTalk with Grace DyasGrace Dyas, filmmaker and activist
11am-11.20am Break (Tea/coffee will be available)
11.20-11.55am Perception and politics: Patrick Graham's guiding images Michael G. Cronin, Lecturer in English at Maynooth University
Noon-12.25pmReadings and conversation between poets Theo Dorgan, Jessica Traynor and Annemarie Ní Churreáin with Chair Declan McGonagle.
12.30pm
Q & A, discussion
Ends
Biographies:
Declan McGonagle is a curator and writer focusing on relations between art/artists, institutional practice and public value. Formerly he was the curator of the Orchard Gallery [Derry], the ICA Exhibitions Programme [London], Director of the Irish Museum of Modern Art and the Civil Arts Inquiry in Dublin and also directed Interface - a research centre in University of Ulster, Belfast dealing with art, design and contested space and NCAD [Dublin]. He has served as Irish Commissioner for the Venice and Sao Paulo Biennales and has curated independent exhibitions and public art projects in Ireland and the U.K. He was shortlisted for the Tate's Turner Prize and has served on the Turner Prize Jury and other national and international awards panels. He is currently curator of Dublin Port's Engagement programme as part of its Port/City Integration 2040 Strategy and was recently appointed to the Board of the Hugh Lane Gallery.
Michaële Cutaya is a writer, researcher and editor on art living in County Galway. Her reviews and essays have been published in Art Monthly, Irish Arts Review and The Stinging Fly amongst others. She was co-founding editor of Fugitive Papers and editor of Circa Art Magazine. She continues a contextual writing and artistic practice in the west of Ireland.
Grace Dyas is an artist, activist, writer, director, producer and performer based between south inner-city Dublin and Inis Oirr, Aran Islands. She has made films, plays, live performances and huge projects with people who had never created art before. She has made art mostly about all facets of addiction, but also prostitution, sex work, the history of government corruption around social housing, casual sex, the conflict with the English in Ireland, the referendum on abortion and the legacy of Church and State abuse in Ireland, mostly with survivors of Magdalene Laundries.
Michael G Cronin is Lecturer in English at Maynooth University, Ireland. He is the author of Revolutionary Bodies: homoeroticism and the political imagination in Irish writing (Manchester UP, 2022) and of Impure Thoughts: sexuality, Catholicism and literature in twentieth-century Ireland (MUP, 2013). Sexual/Liberation is forthcoming from Cork UP in Autumn 2022 and will form part of the 'Síreacht: longings for another Ireland' series.
Theo Dorgan is a poet, and also a non-fiction prose writer, novelist, editor, documentary screenwriter, essayist, librettist and translator. Among his recent publications are: JASON AND THE ARGONAUTS (2014), a libretto commissioned by the Royal Albert Hall; LIBERTY WALKS NAKED (2015) and BAREFOOT SOULS (2015) translations from the French of the Syrian poet Maram al-Masri; FOUNDATION STONE: Towards a Constitution for a 21st Century Republic (2013, essays, editor) and the novel MAKING WAY (2013). His most recent collections of poems are NINE BRIGHT SHINERS — awarded the Irish Times/Poetry Now Prize for best collection in 2015 — and ORPHEUS, published in 2018, both from Dedalus Press. His translations of Lorca's ROMANCERO GITANO into Irish, BAILÉID GIOFÓGACHA, was published by Coiscéim, Dublin in 2019. He is a member of Aosdána.
Jessica Traynor is a poet, essayist and librettist, and poetry editor at Banshee. Her debut poetry collection, Liffey Swim (Dedalus Press, 2014), was shortlisted for the Strong/Shine Award. The Quick (Dedalus Press, 2018) was an Irish Times poetry choice. Awards include the Ireland Chair of Poetry Bursary and Hennessy New Writer of the Year. Operas include Paper Boata commission from Irish National Opera and Music for Galway, and The Wanderer, commissioned by Irish Modern Dance Theatre. Residencies include Yeats Society Sligo, Seamus Heaney Home Place and the DLR LexIcon. Pit Lullabies (Bloodaxe, 2022) is a Poetry Book Society Recommendation.
Annemarie Ní Churreáin is a poet from the Donegal Gaeltacht. Her books include Bloodroot (Doire Press, 2017) and The Poison Glen (The Gallery Press, 2021). In The Dublin Review of Books poet Thomas McCarthy hailed Ní Churreáin's work as "a poetry of furious energy and stunning verse-craft ". Of her work The Yale Review states that she "often captures a whole world of cultural and historical implications in a single, simple, but metaphorically rich image". Ní Churreáin is recipient of the Arts Council's Next Generation Artist Award and a co-recipient of The Markievicz Award. A former literary fellow of Akademie Schloss Solitude in Germany and The Jack Kerouac House in Florida, Ní Churreáin is the 2022 Decade of Centenaries Artist In Residence with Donegal County Council's Archives Service.
This Study Morning is presented as part of the Hugh Lane Gallery's education programme in tandem with Patrick Graham: Transfiguration exhibition, curated by Michael Dempsey and Victoria Evans. We are very grateful to each of our guest speakers, and to Jessica O'Donnell, Head of Education and Community Outreach, Cleo Fagan Education Curator and to Catherine Neville, Assistant Education Curator.
www.hughlane.ie