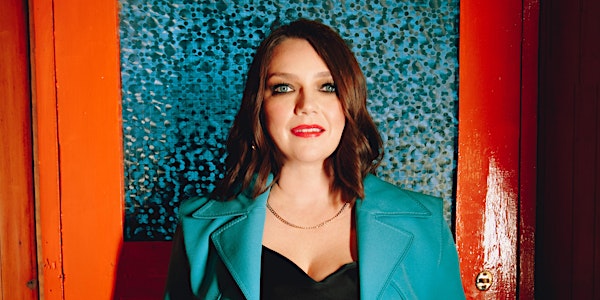 Pauline Scanlon
Pauline Scanlon @ An Taibhdhearc
When and where
Location
An Taibhdhearc - National Irish language theatre 19 Middle Street H91 RX76 Galway Ireland
Refund Policy
Contact the organiser to request a refund.
About this event
Pauline Scanlon
'Her voice is a superb mix of china cup fragility and steely strength" (The Irish Times, 2010.)
Tá fírinne sa neamhréiteach sin fós níos mó ná deich mbliana ar aghaidh. Is as Iarthar Chiarraí í Pauline Scanlon agus d'fhéadfá a rá go bhfuil scil ar leith aici ag meascadh malairtí. Tagann a guth as áit ársa ach cuireann sí cor comhaimseartha air. Is Éireannach go brách í ach tá tuiscint ag cách uirthi, tá bealach traidisiúnta aici ach ní hea sin le rá go nglacann sí le gach riail.
Seoladh a halbam nua, The Unquiet, i mí an Mhárta 2022. Is píosa ealaíne é an t-albam atá anam an tseansaoil istigh ann, ach tá sé curtha le chéile i mbealach comhaimseartha. Sárófar an t-albam aon rud a raibh súil ag daoine leis agus ní féidir é a chur in aon seánra amháin.
It's 2022, more than a decade later, and this contradiction is still true of Pauline Scanlon's voice. In fact, the pairing of opposites seems a true fit for this West Kerry native. Her voice comes from an ancient place but is always fresh. She is uniquely Irish yet universally understood, apparently traditional yet subversive at every turn. Perhaps now, it is the steely strength that comes to the fore in both her activism and her determination to constantly evolve as an artist.
As a founding member of FairPlé, the role of women in the arts is central to her creative path and something she is very vocal about and dedicated to. Her new album, The Unquiet, to be released in March 2022, is a piece of art possessed of an old soul, but thoroughly modern and of its time. It is an album that will shift expectations and stand undefined by genre. What makes it so relevant is that it dares to reimagine what it is to be an Irish woman in the context of music and song.
About The Unquiet, her third collaboration with John Reynolds as producer, Scanlon herself says, 'All my life as a singer, I have been drawn to old songs. In them I find a solidarity with the ghosts of people I have never met and yet share fragments of feelings with.' Then deliberately turning the narrative of these songs to face the modern era, she says 'This album is based on the life of my late mother, Eileen Scanlon and her contemporaries in Irish society. The songs have a resonance and a purpose in reflecting her lived experience and that of modern-era women in Ireland, through my perspective.'
Red Colour Sun, her stunning debut, produced by John Reynolds in 2004, announced an original artist immersed in tradition, yet completely aware of the edgier developments within the folk world.
Signed to Sony in 2009 as part of the duo LUMIERE, Scanlon and fellow West Kerry singer, Éilís Kennedy released their self-titled debut in September 2009 to widespread critical acclaim, leading to performances from folk clubs and festivals all over the world to London's Barbican Theatre and New York's Carnegie Hall in December 2014.
Bringing her unmistakable vocal style to her second Compass release, Hush was produced by Donogh Hennessey and recorded at the Compass Sound stage in the company of some of Nashville's finest including, Darrell Scott, Stuart Duncan and the legendary bass player Danny Thompson at the Compass Sound Stage in Nashville.
Gossamer, her third solo album, again produced by John Reynolds, is an emotionally charged collection of songs, galvanizing her signature style of bringing every song in close and re-creating it for the listener.
Scanlon, although a unique talent, is a constant and generous collaborator. Working with artists such as Damien Dempsey, Sinead O'Connor and many other well-known names, she has featured as harmony vocalist on countless albums. Her current pairing with John Spillane, the latest of many, has delighted audiences around the country with performances of his new album, 100 Snow White Horses. As a collaborator, Scanlon adds a layer of complexity and illumination to the songs she harmonises on. As a solo artist she has entranced audiences all over the world with her distinctive delicate intensity.
Adding television presenting to her skill set, she has fronted several music-based television programmes for both the BBC and TG4 including 'Ceol Ón gCroí' a documentary featuring the songs of the 1916 rising, TG4's live music series, 'Bosca Ceol' and a BBC documentary based on her collaboration with NOTIFY, 'An tÁmhrán Gaeilge'.
Ever curious, she is currently involved in several standout projects. MOTU::OILEÁIN, is a Maori/Irish project featuring NZ platinum selling Maori band TRINITY ROOTS along with fellow Irish musicians, Gerry Paul, Tola Custy and Alan Doherty. This collaborative act accompanied Irish President, Michael D. Higgins on his 2017 tour of New Zealand.
ATLANTIC ARC ORCHESTRA formed by Scanlon, and under the stewardship of Donal Lunny, features luminaries of folk music such as Aidan O'Rourke of LAU and Ulster piper and singer, Jarlath Henderson
BIRD ON THE WIRE -The Songs of Leonard Cohen, is Scanlon's most recent collaboration with Galway based band THE WHILEAWAYS, a pre-lockdown project that beat the virus, selling out at every venue in its UK and Irish tours in 2020 and 2021.
The seamless way in which musicians from around the globe connect and blend is something that drives Scanlon as an artist. It's perhaps this openness on her part that has brought her the gravitas she has earned as a truly original master of song. With voice as her instrument, she takes her place with any instrumental virtuoso of Irish music.
While the word fragile may once have been used to describe her voice, fragile is something Scanlon herself is not. She is a stalwart of the Irish creative music scene, a singer's singer, a fearless artist who has brought with her all of her experiences and collaborations along the road to her current destination, The Unquiet.
Where the road takes her next, she will tell us in her own way, and in her own time.