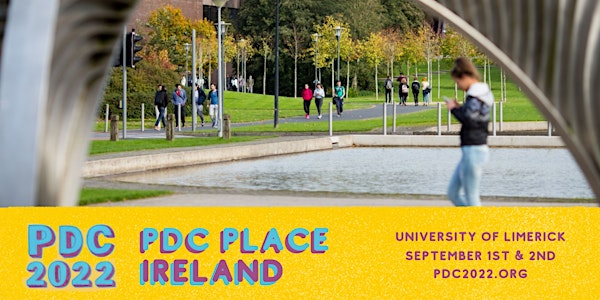 PDC Place Ireland
PDC Place Ireland is a hybrid event that showcases recent participatory design work in Ireland
When and where
Location
University of Limerick University of Limerick V94 T9PX Castletroy Ireland
About this event
Our PDC Place brings together several strands of participatory design work within Ireland in recent years in order to collaboratively explore them with a critical lens: 1) mapping traditions of participation within disparate disciplines (e.g., design, cultural studies and heritage, public health); 2) exploring the complex (socially, politically) area of sexual wellbeing in light of increasing reports of sexual harassment and violence on Irish campuses (as well as worldwide); and 3) critically interrogating the ways in which participatory design can be said to be done with participants with severe disabilities (e.g., low-functioning autism; late-stage dementia), as well as the 'fairness' of previous work which has focused on high-functioning individuals to the possible detriment of those living with more challenging conditions. Finally, we will also use our PDC Place to spotlight student work from the previous academic year (2021/2022) which used participatory methods to design with stakeholders or communities.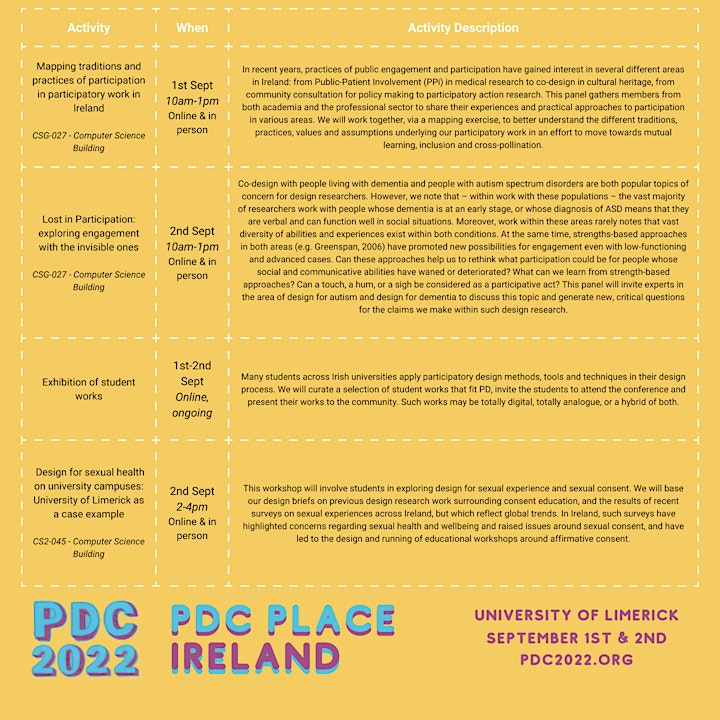 This PDC Place has two options for attendance - you can attend in person at the University of Limerick, Castletroy, Ireland, where the event will be hosted in the Computer Science Building, or else join us online via Zoom!
The schedule is as follows:
Mapping traditions and practices of participation in participatory work in Ireland
CSG-027 - Computer Science Building (if attending in person)
1st Sept, 10am-1pm, online & in person
In recent years, practices of public engagement and participation have gained interest in several different areas in Ireland: from Public-Patient Involvement (PPi) in medical research to co-design in cultural heritage, from community consultation for policy making to participatory action research. This panel gathers members from both academia and the professional sector to share their experiences and practical approaches to participation in various areas. We will work together, via a mapping exercise, to better understand the different traditions, practices, values and assumptions underlying our participatory work in an effort to move towards mutual learning, inclusion and cross-pollination.
Speakers:
Jon Salsberg, Senior Lecturer in Primary Healthcare Research, University of Limerick
Helen Phelan, Professor of Arts Practice, University of Limerick
Neil Galway, Lecturer, School of Natural and Built Environment, Queen's University Belfast
Marilyn Lennon, Artist and Lecturer, Social art practice
David Farrell, Professor of Politics, University College Dublin
Lost in Participation: exploring engagement with the invisible ones
CSG-027 - Computer Science Building (if attending in person)
2nd Sept, 10am-1pm, online & in person
Co-design with people living with dementia and people with autism spectrum disorders are both popular topics of concern for design researchers. However, we note that – within work with these populations – the vast majority of researchers work with people whose dementia is at an early stage, or whose diagnosis of ASD means that they are verbal and can function well in social situations. Moreover, work within these areas rarely notes that vast diversity of abilities and experiences exist within both conditions. At the same time, strengths-based approaches in both areas (e.g. Greenspan, 2006) have promoted new possibilities for engagement even with low-functioning and advanced cases. Can these approaches help us to rethink what participation could be for people whose social and communicative abilities have waned or deteriorated? What can we learn from strength-based approaches? Can a touch, a hum, or a sigh be considered as a participative act? This panel will invite experts in the area of design for autism and design for dementia to discuss this topic and generate new, critical questions for the claims we make within such design research.
Speakers:
Chris Frauenberger, Professor for HCI at the Center for Human-Computer Interaction, University of Salzburg
Keith McAllister, Senior Lecturer in Architecture, Queen's University of Belfast.
Niels Hendriks, Research Coordinator, Inter-Actions, LUCA School of Arts
Rita Maldonado Branco, Researcher, Research Institute for Design Media and Culture, University of Aveiro
Exhibition of student works
1st-2nd Sept, online, ongoing
Many students across Irish universities apply participatory design methods, tools and techniques in their design process. We will curate a selection of student works that fit PD, invite the students to attend the conference and present their works to the community. Such works may be totally digital, totally analogue, or a hybrid of both.
Design for sexual health on university campuses: University of Limerick as a case example
CS2-045 - Computer Science Building (if attending in person)
2nd Sept, 2-4pm, in person only
​​This workshop will involve students in exploring design for sexual experience and sexual consent. We will base our design briefs on previous design research work surrounding consent education, and the results of recent surveys on sexual experiences across Ireland, but which reflect global trends. In Ireland, such surveys have highlighted concerns regarding sexual health and wellbeing and raised issues around sexual consent, and have led to the design and running of educational workshops around affirmative consent.