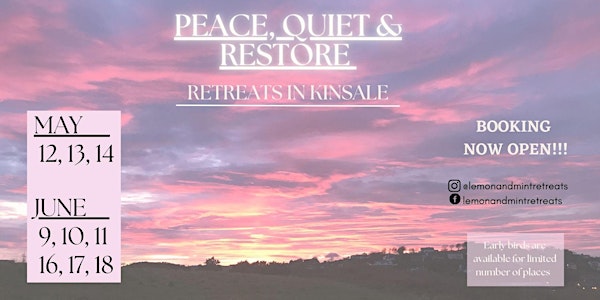 Peace Quiet and Restore | 16 June 2023
The first retreat of Lemon & Mint it´s finally open! Take time for yourself in Peace, Tranquility, and Restoration. Find out more!
Date and time
Fri, 16 Jun 2023 15:00 - Sun, 18 Jun 2023 15:00 IST
Location
Ballinacurra House, Kinsale Patrick Street P17 YF76 Kinsale Ireland
Refund Policy
Contact the organiser to request a refund.
About this event
The Peace, Quiet and Restore retreat is for connecting with Your Divine Feminine ✨, a sacred and safe place to work towards becoming your best self. Most of all it is an opportunity to take time for yourself!
It is a beautiful opportunity to let go of fear, doubt, trauma, and thoughts that may stop you from being your highest self. To give VOICE to something that wishes to be heard or released. This is an invitation to release any blocked energy.
🌿 WHO IS IT FOR?
💜 The workshop is open to women. Over 18's.
💜 It is about truth, authenticity, and the journey.
🌿 LOCATION AND ACCOMMODATION
We will gather at a peaceful healing space just a 5-minute drive 🚗 outside Kinsale 📍, Cork, at Ballinacurra house.
It offers a place to fully enjoy the peace and make ourselves at home during our stay. A place where we can open up to our greatest fears and build ourselves up. The nearby sea, beaches, woods, and nature trails will all feed into the experience.
🌿 ABOUT MEALS
You will be served daily vegetarian meals 🥑 with the finished ingredients made by a talented chef with organic and locally sourced vegetables.
When booking, please mention if you have any ⚠ allergies or intolerances.
🌿 ABOUT YOUR GUIDE
Irina started her path to yoga🧘‍♀️ through a spiritual journey to India in 2015. There she lived in an ashram and studied yoga, meditation, pranayama, and yoga philosophy.
She completed her first 10-day silent meditation, known as Vipassana. This had a great transformational impact on her 🎇 and inspired her to become a life learner on the path of yoga.
By now Irina completed a total of five 10-day silent meditation courses. She completed a 200-hour teacher training course in Rishikesh, India, and started to teach Hatha yoga in Ukraine.
She visits India every year and has completed multiple spiritual and philosophical courses. She runs online courses, dialogues, and seminars.
🥰 What are you going to do with your guide in the retreat?
In this retreat, Irina will help you to reconnect, understand, and be more conscious about your own unique, spiritual side and put it into practice to:
• See yourself as unique, perfect, and beautiful in every way.
• Grow a stronger connection to yourself, others, and nature.
• It will be a beautiful weekend of learning in the company of other curious and open-minded people from all backgrounds and beliefs.
• Will include teachings, meditation, questions and answers, tailored exercises, and time for reflection.
🥰 What are we going to work on?
• About Yoga
Yoga can work on all levels 🤸‍♂️: physical, mental, emotional, energetic, or spiritual. Developing self-reflection, awareness, calm, clarity, and relaxation support and empower participants in their own healing process.
Our mind becomes clearer and more focused, we feel more in harmony with our emotions 💞, and we create mental space for ourselves, which melts stress and puts us firmly in the driver's seat of our lives.
Yoga helps to relieve: pain, mobility issues, stress, anxiety, depression, respiratory problems, digestive problems
• About Creativity
1. Encourage Communication and Strengthened Team Bonding
2. Reduced Stress Levels
3. Creativity builds on problem-solving skills and improves mental health
Creativity makes you happy! 👏
🌿 THE PACKAGE INCLUDES
• All activities (yoga, mindfulness, meditation, creative workshops, and more)
• Organized outings into the Kinsale hills and by the sea
• 2 nights accommodation
• Daily meals
• Luxurious facilities
👉 Notes: Transport is not included
🌿 OPTIONAL SERVICES NOT INCLUDED
• Acupuncture
• Massages
• Sauna
🐣Early birds are available for a limited number of places (10%)🐣
----------------------🌈PRE-BOOKING NEEDED🌈-------------------
• All classes, outings, and meals are optional, so you are free to join all or some as you please during the weekend.
• Being involved in as much as possible will inspire you to continue a daily practice yourself when you return home after this weekend.
• If you wish to brave Dock Beach or Garretstown Beach, bring your swimsuit and towel.
• If you have an injury of any sort, you are welcome to attend and work within the easefulness and freedom of your own body.
🌿 DAILY SCHEDULE
🗓 FRIDAY
• 03:00 pm | Arrival and Introduction
• 07:00 pm | Dinner
• 08:30 pm | Candle Meditation and Yoga Nidra (1h 30m)
🗓 SATURDAY
• 07:30 am | Pranayama / Assana Yoga (1h 30m)
• 09:00 am | Breakfast
• 11:00 am | Restoration Walk in Nature with meditation forest included (1h 30m)
• 01:30 pm | Lunch
• 04:00 pm | Yin Yoga and Boen Yoga theory and practice (3h)
• 07:00 pm | Dinner
• 08:30 pm | Workshop
🗓 SUNDAY
• 07:30 am | Pranayama/Assana Yoga (1h 30m)
• 09:00 am | Breakfast
• 10:00 am | Packing
• 11:00 am | Reflexion, picnic, and farewells at the beach if weather permitting (3h)
• 03:00 pm | The Latest time to depart
🌿 RATES
🏘 Single room 765€
🏘 Doble room 620€ (P.P.S)
🏘 Triple room 545€ (P.P.S)
💤 Without accommodation 355€
----------------------🌈YOU CAN ALSO BOOK AT🌈-------------------
• Instagram: @lemonandmintretreats
• Facebook: Lemon & Mint Wellness Retreats
• Web: www.lemonandmintretreats.com
👉 CONTACT WITH ME BY INSTAGRAM OR FACEBOOK AND GET YOUR DISCOUNT
👉 BOOK YOUR CALL FOR MORE INFORMATION