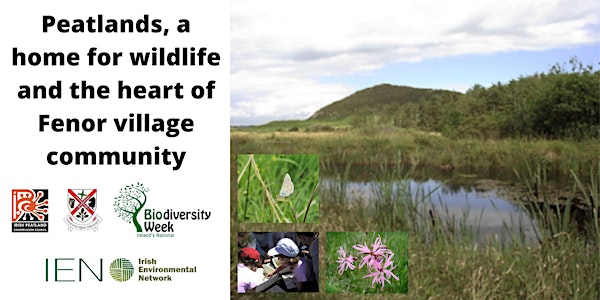 Peatlands, a home for wildlife and the heart of Fenor village community
Event Information
Location
Fennor
Fenor Bog
Fenor
Ireland
Join the IPCC on Fenor Bog, Co. Waterford to learn all about peatlands and the wildlife that call it home on the 21st May 2022 from 1-3pm.
About this event
Peatlands are wetland habitats that become the heart and sole of a community. They provide us with a range of ecosystem services for our benefit such as carbon sequestration, water storage, biodiversity, recreation and education. Through education we have learned about the importance of peatlands as a habitat and their role as climate change heroes. Fenor Bog is a Fen owned in partnership with the IPCC and MFDA, a local environmental community group in Fenor Co. Waterford. This Biodiversity Week 2022, IPCC are hosting a walk and talk on Fenor Bog to celebrate peatland and biodiversity. Participants will learn about the formation on peatlands and their importance within the community. Participants will also have the opportunity to learn about the wildlife on site by looking at some of the mini-beasties that live beneath the water. This is a free event open to families, locals and members of the public interested in learning all about peatlands.
We meet at Fenor Bog in the village of Fenor, Co. Waterford at 1pm. Please dress for the weather.
Date and time
Location
Fennor
Fenor Bog
Fenor
Ireland