Description
Save the date:

Monday, 30th

May 2016, IT Tralee, Tralee, Co. Kerry
---
PEPAYS Ireland Annual Forum 2016
'Charter for Change'
---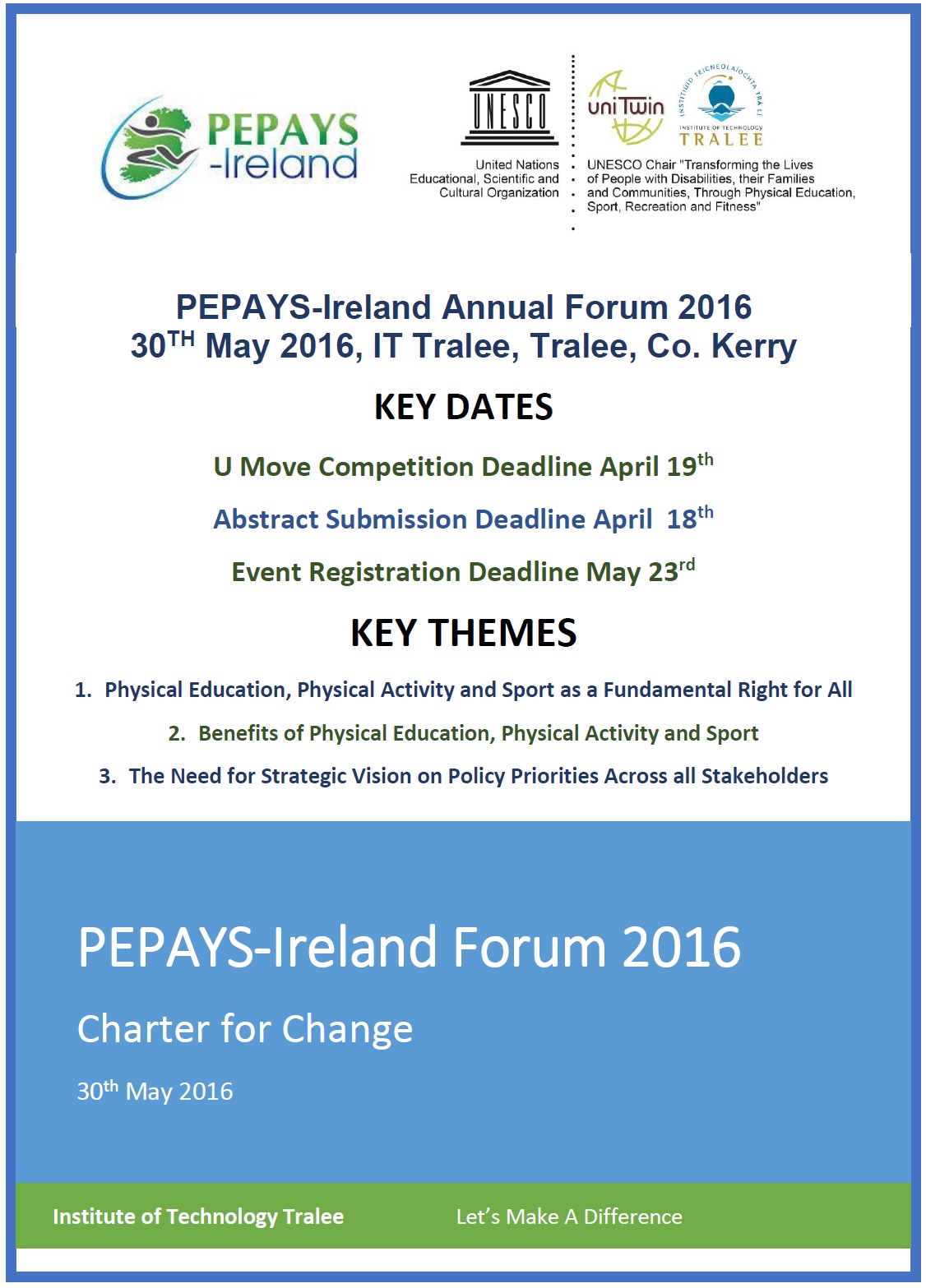 Welcome Message from PEPAYS Ireland Forum 2016
PEPAYS Ireland & the Institute of Technology Tralee (IT Tralee) are delighted to announce the details of the 2016 Forum. PEPAYS Ireland 2016 Charter for Change will have a policy and practice focus framed by three articles from UNESCO's International Charter of Physical Education, Physical Activity & Sport (2015).
This year's event is being hosted by IT Tralee's Department of Health & Leisure and the Institute's UNESCO Chair, with the support of three IT Tralee strategic research centres; the Irish Academy of Hospitality & Tourism (IAHT), the Intelligent Mechatronics & Radiofrequency Research Centre (IMaR) and the Centre for Entrepreneurship & Enterprise Development (CEED), and the Cara Centre. The UNESCO Child and Family Research Centre from the National University of Ireland, Galway have also helped shape the event. The Organising Committee acknowledges the support of PEPAYS Ireland Research Cluster Leads, & PEPAYS-Ireland Co-Directors.
IT Tralee is committed to the promotion of innovation, inclusion and excellence in Physical Education, Physical Activity and Youth Sport. These tenets will be to the fore in this year's PEPAYS-Ireland event. We welcome the diverse views and practices that can contribute to the cultivation of a strengths-based approach to capacity building and human flourishing, generate new thinking and a research renaissance in the field. In line with the UNESCO Chair motto, mainstreaming diversity in physical education, physical activity and youth sport will be a common thread throughout the day.
PEPAYS Ireland Forum 2016 will give a place to the voice of every stakeholder. Central to the conference will be the voices of children, youth and the family. In addition the views of those at the coal-face of PE/PA/YS will be presented to delegates through varied modes during the day.
The increasing prevalence and opportunities for technology to support action innovation and research will be showcased at this year's conference. The views of children and youth regarding PE/PA/YS are being compiled in the lead up to PEPAYS-Ireland 2016 via our UMOVE Competition - please continue to promote this competition. (Click Here for UMOVE DETAILS). Before, during and after this year's forum, we aim to capture perspectives relating to this year's themes in order to develop a Charter for Change Policy to Practice paper on:
(i) The main policy monitoring parameters i.e. legislation, national policy strategies and implementation plans. Information on indicators, self-evaluation and other assessment tools and initiatives
(ii) Existing, planned, desirable capacity development resources: guidelines/toolkits/training/clearing house(s)
(iii) Advocacy initiatives and incentives for government participation in future data collection
(iv) Resources and partner mobilisation
(v) Mapping existing indicators and data collection initiatives in the field of PEPAYS & inclusion
(vi) Good practice (notably by public authorities) to be documented, shared and promoted, especially if it relates to policy monitoring and impact evaluation.
The PEPAYS Ireland 2016 Organising Committee looks forward to welcoming one and all to the Institute of Technology Tralee, in beautiful Kerry. We are honoured to host this event and are privileged to work in a field that can touch the lives of children and young people and influence future participation. Our responsibility, and our mission, is to do our best for and with them.
---
PEPAYS 2016 Call for Abstracts
PEPAYS Ireland 2016 Charter for Change will have a policy and practice focus. The three themes directly align with the first three articles of UNESCO's International Charter of Physical Education, Physical Activity and Sport (2015). (Click here for UNESCO's Charter)
Abstracts are welcome under the following themes:
1. Physical Education, Physical Activity and Sport as a Fundamental Right for All
Every human being has the fundamental right to Physical Education, physical activity, recreation, fitness and sport without discrimination. This conference theme will explore this right by exploring themes of socio-economic background, ethnicity, gender, sexual orientation, language, religion and disability among other related themes. Subthemes:
*Government support *Inclusive, adapted, safe
*Equal opportunities *Diverse activities
*Attainment
2. Benefits of Physical Education, Physical Activity and Sport -Impact on the Individual, Community and Society as a Whole
Physical education, physical activity and sport in general, have key roles to play in the development of the wellbeing of the human race. It has a role in developing individuals, families and communities and can also contribute to confidence, esteem and physical attributes such as strength and conditioning in those who participate. Subthemes:
*Benefits to individuals, families & communities *Physical wellbeing and health
*Mental and psychological wellbeing *Community ties and social capital
*Rehabilitation *Civic engagement and social cohesion
3. The Need for Strategic Vision on Policy Priorities Across all Stakeholders
Physical education, physical activity and sport need a connected strategic vision and implementation plans to balance and optimise the impact of policy options. Quality PE and sport need to be protected and strengthened. As concepts they can be used as conduits for a wider social justice movement. Subthemes:
*Policy implications *Engagement of all stakeholders
*Public Authority Action Needed *Investments
*Long term strategy *Good governance
******************************************************************************
The Call for Abstracts is now open and closes 5pm Monday 18th April 2016.
If you would like to be part of the programme for this exciting event then please submit an abstract in word format of no more than 250 words using the template below (Click for Abstract Template). Researchers from schools, youth groups, further and higher education, sports, physical activity, or health sectors are all welcome. Presentations will be of varied durations followed by panel discussions. Posters will be displayed during the event and times for presentation of posters will follow.
Registration deadline: 23th May 2016. Please register here, via EventBrite.
Conference fee
: Professional €95, HE/FE Student €25, Secondary School Student €10
Conference website: PEPAYS Ireland
Queries: unesco@ittrralee.ie or +353 66 7145634
---
We would kindly ask you to ...
..... please circulate widely through your communication networks
Organiser of PEPAYS Ireland Annual Forum 2016
UNESCO Chair "Transforming the Lives of People with Disabilities, Their Families and Communities, Through Physical Education, Sport, Recreation and Fitness"
Institute of Technology, Tralee, Tralee, Co. Kerry, Ireland
Email: unesco@ittralee.ie  Phone: +353 (0)66 714 5662