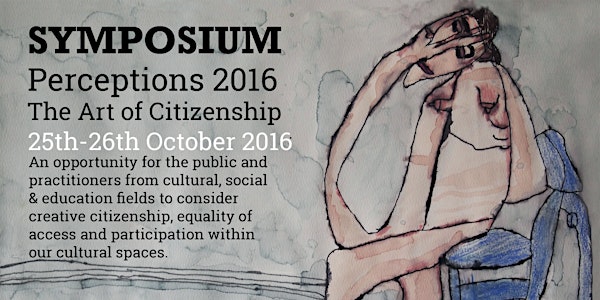 Perceptions 2016: The Art of Citizenship Symposium
Description
There are a number of attendance options over the two days of the symposium. Please follow the tickets button to select your choices.
Day one offers free tours and a creative fair that will provide valuable opportunities to engage and network with artists, art studios and other symposium delegates. It will also provide context for engagement with the presentations on day two.
Day two provides a more formal opportunity for the public and practitioners from cultural, social and education fields to further consider creative citizenship, equality of access and participation within our cultural spaces.
Please note the various venues that will host different activities of the symposium.
About Perceptions 2016: The Art of Citizenship
The 1916 proclamation declared it's resolve to cherish 'all the children of the nation equally and oblivious of the differences....that have divided the minority from the majority in the past'.
Perceptions 2016: The Art of Citizenship challenges this resolve bringing colour, energy, imagination and discussion to Cork city. While 2016 is a time to remember the past, it is also an opportunity to re-imagine and expand our perceptions of future possibilities for a brighter more equal society.
Perceptions 2016: The Art of Citizenship is a citywide celebration, a diverse multi-venue exhibition, showcasing national and international work of 141 artists from 34 supported studios.
SYMPOSIUM DAY 1 - 25th Oct
Tours of three venues: Insight to art, artists and studio groups.
11am-11:30am CIT Wandesford Quay Gallery
11:45am-12:15pm Cork City Hall Atrium
12:30pm-1pm Crawford Art Gallery
Creative fair @ the Crawford Art Gallery
2pm-4:30pm A unique opportunity to spend an afternoon in a relaxed, explorative setting, meeting artists and studio groups. An opportunity to interact through conversation and creative processes.
6:30pm Evening celebration and networking at CIT Wandesford Quay Gallery
SYMPOSIUM DAY 2 - 26th Oct
Presentations, Talks and Panel,Discussions @ Millenium Hall, Cork City Hall.
9am-4:30pm.
Supported Studios in Context
Padraig Naughton provides a national context.
Them, Not Us: Declan McGonagle investigates art and active citizenship.
Supported Studios in Practice
KCAT [Kilkenny], AIM [Bristol], Debajo del Sombrero, [Madrid] and GASP [Cork] showcase their models of practice.
Re-imagining our role as creative citizens
Evelyn Grant hosts a panel discussion with Tom Clonan, Catherine Marshall, Declan McGonagle and Helen O'Donoghue.
www.perceptions2016.com