Following his incredible performance at Other Voices last year we delighted to welcome Peter Broderick back to the kingdom.
About this event
Peter Broderick is an American-born multi-instrumentalist and singer, brought up in a musical household in Oregon. In his later teenage years he became entwined in the indie folk scene in Portland, recording for the likes of M. Ward, Laura Gibson and Dolorean. In 2007 Broderick moved across the ocean to Denmark, where he began a long collaboration with the band Efterklang, touring the world with them for the next five years. Meanwhile he recorded several albums of solo material, ranging from the sparse classical compositions of his debut album Float to the homemade folk music on Home — constantly experimenting with different musical genres, and also being commissioned to write music for several films and contemporary dance works.
Justin Grounds is a violinist, composer and electronic music producer based in West Cork. He studied baroque violin with Rachel Good in his home town of Cambridge, UK, and went on to do a degree in Music and Theology at Durham University, majoring in electroacoustic composition. He performs regularly as a solo violinist, as a composing member of The Vespertine Quintet, the Barefoot Baroque project and with bands Idiot Songs, Fir Beag and Farewell J.R.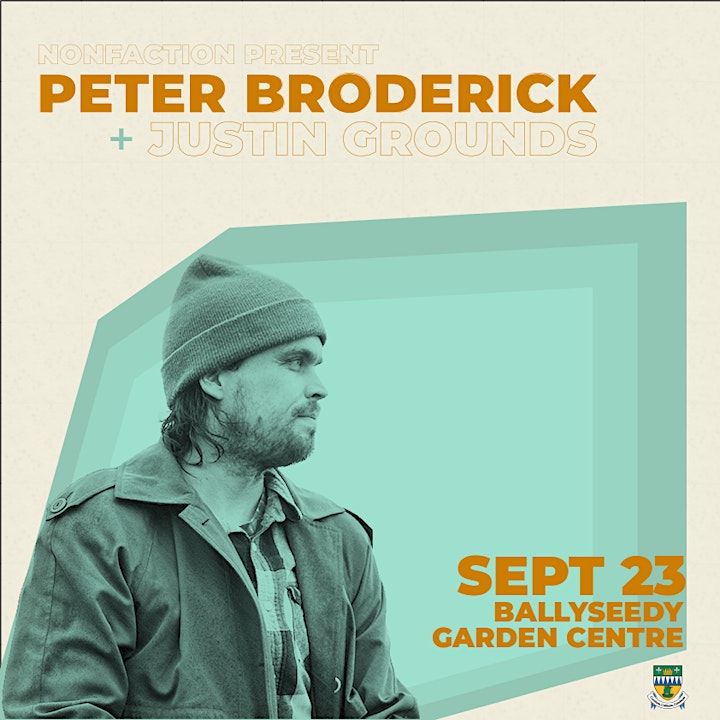 This limited capacity socialy distanced show will take place in Ballyseedy garden centre
http://nonfaction.com/events/event/peter-broderick/