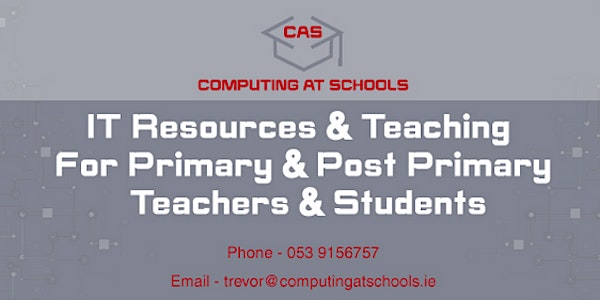 Phase 1 – Introduction to Computer Sciences, CS through Scratch
Phase 1 – Introduction to Computer Sciences and How to teach CS through Scratch. Resource 40+ Hours
About this event
This workshop will aid educators within the Primary, Post-Primary and National Training sectors to refresh or upskill in the areas of Computer Science, Coding and ICT. No prior coding experience is required. Resource available for all levels. (Excluding LC Resources)
Phase 1 – Introduction to Computer Sciences and How to teach CS through Scratch
This 3.5-hour programme will be run to facilitate teachers and principals to travel and give the
attendees the tools, skills and confidence to:
Implement computing and coding in their classroom.
For those that are already delivering computing and coding, this course will provide a full syllabus to
allow teachers to expand their current skills portfolio.
• What will be covered?
• Presentation (Overview of Workshop)
• Resources – YouTube for Education & Educational Website Usage.
• How to keep your Laptops and PC clean and safe.
• Anti-Virus SW, Updates, Disk Clean-up, What are the elements of your laptop.
• Discuss 'Short Course Coding – Specification for Junior Cycle'
• Discuss how to align material with department specification requirements.
• Computing – OS, HW, & SW. Computing and Coding through CS Unplugged (Paper Exercises).
• JC Short Coding Course – Roadmap, resources and walkthrough.
• Binary
• Encryption
• Exercise
• Coding through Scratch – Practicals
• Introduction to HTML & CSS (Overview)
• Introduction to Python. (Overview)
Scratch 2.0 Offline, Notepad++ & Python all are available free from HERE http://computingatschools.ie/free-downloads/