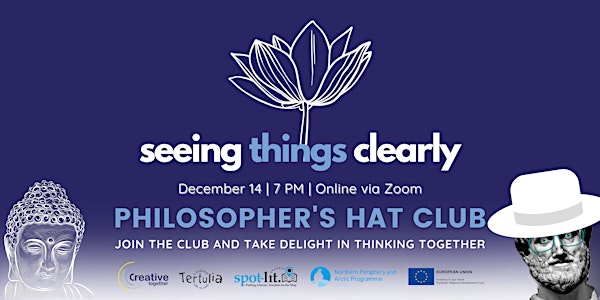 Philosopher's Hat Club - Seeing things clearly
We expose the public to ideas and invite them to think about them. We encourage people to enquire philosophical questions with others.
Refund Policy
Contact the organiser to request a refund.
About this event
The Philosopher's Hat Club invites participants to put their thinking cap or philosopher's hat on and once a month engage in a meaningful and facilitated online conversation, about the world we live in, with other participants, making philosophy more accessible. And have fun, of course! No philosophical background is required! All welcome!
The theme for this edition of the Philosopher's Hat Club is:
SEEING THINGS CLEARLY
#phenomenology #buddhism #mindfulness
Our strive for objectivism is a noble pursuit, making our science and worldview more reliable, but to ignore one's own experiences and insights would be rather unwise. Such is the insight of phenomenology. After all, our consciousness and its contents, appear to us constantly, directly. But do we see things clearly? How do we learn from our experience? Is the bracketing really possible? How to make sense of raw experience and perceptions? How reliable can we be in our own understanding of our lives?
At the next meeting, we'll put our thinking hats on to discuss phenomenology. We'll look at the western approach to 'back to things themselves' and the eastern tradition of mindfulness-based and insight meditation techniques like vipassana, and how a certain approach to mind could enrich our lives and bring insight to lead a better, more examined life. Buddhist philosophy seems to be very well equipped for such an endeavour.
All members have free access to all our online events.
Membership with a free trial is available on our website -https://www.creativetogether.ie/join-philosophers-hat-club
ABOUT THE ORGANISERS
The meetings are facilitated by Lukasz Krzywon from Creative Together (based in Cong, Co. Mayo) and Brid Conroy from Tertulia bookshop (Westport, Co. Mayo). Both share an interest in philosophy and philosophical thinking. Lukasz is a philosopher, author, and educator. He is passionate about teaching children how to think well and about introducing important ideas using philosophical enquiry into Irish classrooms. He has trained with the best facilitators in Ireland and the UK. Brid, whose background is also in philosophy aims, to make a positive contribution to the way the world thinks through Tertulia, a bookshop Like no other. The Club is a joint venture between Creative Together and Tertulia, a bookshop Like no other, and the initiative is supported by Spot Lit EU in association with the Western Development Commission.
ONLINE EVENT
This event takes place on Zoom. Please ensure you have a working microphone, camera, and a good connection for the evening for the best experience.
The event is aimed at adults (16+)
CODE OF CONDUCT
We are all co-creating a safe space for thinking together on interesting topics. Participation is voluntary.
Our meetings are not debates. We are not here to win in the discussion but to enjoy it.
Our meetings are not opinion forums. Support your claims with arguments that can be challenged by anyone in the group.
Respect all participants. Listen attentively. Speak respectfully.
Try to be concise and to the point. Make space for others.
No verbal or written (chat) abuse will be tolerated.
If anyone breaks the rules, the facilitators hold the right to block the person or ask the person to leave the meeting.