Phoenix Park Bikeweek Festival 2015: History Bike Tour & 'Wheel2Reel' Cinema!
When and where
Location
Phoenix Park Visitors Centre Phoenix Park 8 Ireland
Description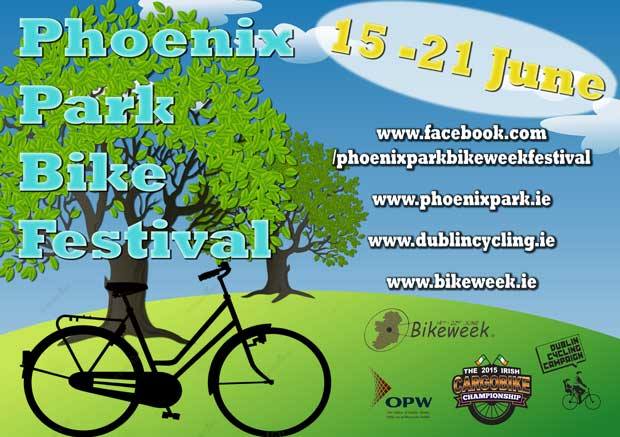 Bike Tour:

Join us for the History Bike Tour taking place at Phoenix Park Bikeweek Festival on Tuesday 16th June, running as part of National Bikeweek 13th - 21st June 2015.
John McCullen, Historian & Landscape professional will lead a bike tour on the 200th anniversary of the Battle of Waterloo, and the major links in the Phoenix Park to the Irish born Duke of Wellington!
Starts 18.30pm @ Phoenix Park Visitor Centre.
Taking you through 1000 acres of traffic free space.
The guided bike tour lasts 40 minutes.
Cycling Cinema:
What better way to relax after the tour than at 'Wheel2Reel', where we will be screening a cycling themed movie! + Free popcorn!
Wadjda (2013, 1 hr 40 minutes, Saudi Arabia - drama)
WADJDA is a movie of firsts. This first feature film shot entirely in Saudi Arabia is the story of a young girl living in a suburb of Riyadh determined to raise enough money to buy a bike in a society that sees bicycles as dangerous to a girl's virtue.
Screening starts 20.00pm @ Phoenix Park Visitor Centre.
Places are strictly limited for 'Wheel2Reel' and are allocated on a first come, first served basis so please arrive early to avoid disappointment.
TICKETS: Events are free, but advance registration is required.
GETTING THERE:
Location
4km from centre of Dublin in the Phoenix Park, signposted from the Phoenix Monument.
Bus Routes
Bus 37, 38, 39 and 70 from Hawkins Street to the Halfway House Roundabout on Navan Road. Enter the park by the Ashtown Gate, walk approximately 190 metres to the T-junction and turn left, walk for about 10 mins until you reach the building on your left, the pathway on the right-hand side leads you towards the trees and the back gate of Ashtown Castle.
No. 46A from UCD Belfield to Phoenix Park - Infirmary Road - North Circular Road Gate (30 min walk from Gate).