Phoenix Park Bikeweek Festival 2015: Nature in the Phoenix Park Bike Tour &...
Description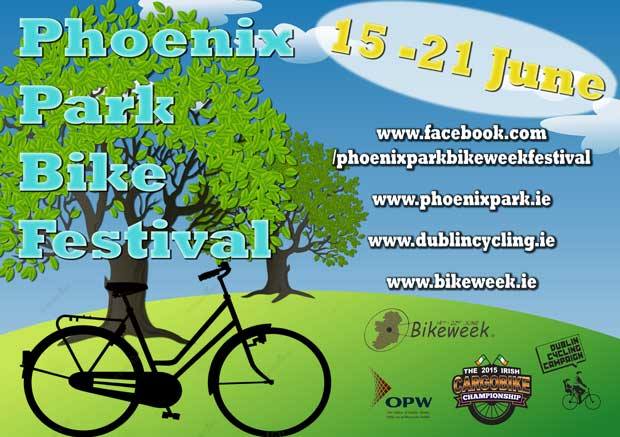 Bike Tour:

Join us for the Nature in the Phoenix Park Bike Tour taking place at Phoenix Park Bikeweek Festival on Thursday 18th June, running as part of National Bikeweek 13th - 21st June 2015.
Miriam Whittle Phoenix Park Guide will take you on a fascinating tour exploring 'Nature in the Park' - from wildlife to plants and trees and birds! Find out the fascinating breath of City Wildlife existing in the Park.
Starts 18.30pm @ Phoenix Park Visitor Centre.
Taking you through 1000 acres of traffic free space.
The guided bike tour lasts 40 minutes.
Cycling Cinema:

What better way to relax after the tour than at 'Wheel2Reel', where we will be screening a cycling themed movie! + Free popcorn!
Breaking Away (1979, 1 hr 40 minutes, America)
Staring Dennis Quaid, a coming of age comedy-drama film that follows a group of four male teenagers in Bloomington, Indiana, who have recently graduated from high school. Ranked eighth on the List of America's 100 Most Inspiring Movies compiled by the American Film Institute (AFI) in 2006.
Screening starts 20.00pm @ Phoenix Park Visitor Centre.
Places are strictly limited for 'Wheel2Reel' and are allocated on a first come, first served basis so please arrive early to avoid disappointment.
TICKETS: Events are free, but advance registration is required.
GETTING THERE:
Location
4km from centre of Dublin in the Phoenix Park, signposted from the Phoenix Monument.
Bus Routes
Bus 37, 38, 39 and 70 from Hawkins Street to the Halfway House Roundabout on Navan Road. Enter the park by the Ashtown Gate, walk approximately 190 metres to the T-junction and turn left, walk for about 10 mins until you reach the building on your left, the pathway on the right-hand side leads you towards the trees and the back gate of Ashtown Castle.
No. 46A from UCD Belfield to Phoenix Park - Infirmary Road - North Circular Road Gate (30 min walk from Gate).
Organiser of Phoenix Park Bikeweek Festival 2015: Nature in the Phoenix Park Bike Tour & 'Wheel2Reel' Cinema!