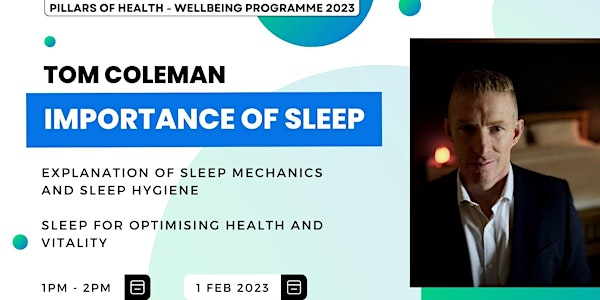 Pillars of health - wellbeing programme 2023
The session will give a brief description of Health, then an explanation of sleep mechanics, sleep hygiene and why it is so important.
When and where
Location
The Mill Enterprise Centre Newtown Link Road A92 CD3D A92 CD3D Drogheda Ireland
About this event
TOM COLEMAN – 1st of February – 1pm
Tom Coleman is a diplomatic and articulate speaker and a leading consultant in Sleep, Health & Wellness. For over a decade Qualified Health Scientist Tom Coleman has been speaking about the importance of Sleep, in relation to health and many other areas including high performance.
As a Health Scientist he understands deeply the relationship between Sleep and Health. Having analysed sleep patterns and worked with high level teams and elite athletes, he gives unique insights on how to harness our physiology and build capacity for highly pressurized environments.
He has also consulting and regularly speaks for a host of multinationals on dealing with challenges relating to fatigue and helping people get better sleep. In 2018 Tom sat on an expert panel contributing to research on Sleep in Corporate Ireland.
Tom will share the latest scientific strategies, techniques.
Importance of Sleep
The session will firstly give a brief description of Health, this is followed by an explanation of sleep mechanics, sleep hygiene and why it is so important. We look at sleep for optimizing Health, vitality and then explore how to strike a good balance along with changing and developing positive lifestyle habits.
The talk also touches on other areas which impact our Sleep such as stress, anxiety, nutrition and work life balance. We finish with tips and coping strategies which help to reduce stress and deal with a variety of daily challenges. The session is very engaging, interesting and practical.