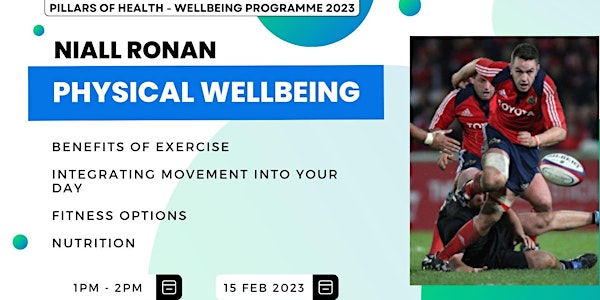 Pillars of health - wellbeing programme 2023
Tips on how to incorporate exercise into your daily routine. Niall will give the participants an overview of Physical Wellbeing.
By The Mill, Drogheda's Enterprise Hub
Date and time
Wed, 15 Feb 2023 13:00 - 14:00 GMT
Location
The Mill Enterprise Centre Newtown Link Road A92 CD3D A92 CD3D Drogheda Ireland
About this event
Niall Ronan Bio – 15th of February
Niall Ronan is a former professional rugby player with Munster rugby with over 100 caps for the province. He began his career with Leinster in 2003, and over the last 10 years he has won 1 Heineken Medal , 2 Magner League medals and have 4 Senior Irish Rugby caps with Ireland.
He graduated with Setanta College having completed a Bachelors of Arts in Strength and Conditioning. Through his work with athletes, Niall has been described as an outgoing, enthusiastic team player who communicates well and enthuses others that he works with. Niall was formerly an IRUPA player's representative in Munster rugby for the Limerick based player ' s in 2013 / 14 season.
Currently, he is one of the founders of Titan Wellness, which encompasses a group of experts assisting companies nationwide with their corporate wellness solutions on physical, mental, social and emotional wellbeing. Workplace wellbeing is a huge part of corporate culture in Ireland and with our team of experienced experts we can provide bespoke wellbeing programs for you.
Physical Wellbeing
WHAT IS THE SEMINAR ABOUT?
Physical Wellbeing webinar will be presented by Niall Ronan. Niall was a former professional rugby player who represented Leinster, Munster and Ireland and has a BA in Strength and Conditioning. Niall is very passionate about the importance of movement in your life and in this webinar he will give you simple tips on how to incorporate exercise into your daily routine. Niall will give the participants an overview on the What, Why and the How of Physical Wellbeing.
CONTENT
What are the benefits of exercise?
• Mental Wellbeing
• Overall Health
• Nutrition
Why should we focus on exercise?
• Integrating movement into your day
• Fun
• Scheduling your exercise
How do we exercise?
• Fitness options
• Small steps but have a long-term goal
• Discipline
About the organiser
The M1 Payments corridor has been developed and proposed by The Mill Enterprise Centre, Drogheda, as a means of utilising and adding value to the geographic concentration of ePayments and Fintech transaction companies along the M1 corridor (i.e. PayPal, Vesta, State Street, Yapstone etc).It is an industry grouping of ePayments / Fintech companies, and allied stakeholders (IDA, EI, DCU, DKIT, Louth Economic Forum), promoted by The Mill, that serves the wider geographic M1 corridor in a Fintech vertical known as ePayments.Industry members of the M1 Steering Group include Vesta, PayPal, State Street, Aphix Software, Yapstone, and Coca-Cola International Services.
M1 Drogheda Chamber Skillnet was established to support companies across the North East Region by offering them access to subsidised training in a local setting.  The focus of the M1 Drogheda Chamber Skillnet is to communicate with businesses along the M1 Corridor, to listen to their training needs and current and future skill shortages, and to support them by organising training courses which are impactful, relevant and which deliver results. The M1 Drogheda Chamber Skillnet is co-funded by Skillnet Ireland and member companies.
The Mill is Drogheda's community enterprise centre and co-working hub. We support the accelerated creation & growth of healthy new enterprises in the South Louth, East Meath and Drogheda areas. Through our various programmes and facilities we promote and support a spirit of entrepreneurship and innovation at every level in the local community.