Pipeworks Autumn 2021.... A Festival of Anniversaries
About this event
Programme:
Benjamin Britten (1913–1976)
Festival Te Deum, Op. 32
Josef Rheinberger (1839–1901)
Ricercare, Op.174, No.9
Hymne (Psalm 89), Op. 69, No.2
Tema variato, Op.167, No.9
Felix Mendelssohn (1809–1847)
Richte mich, Gott (Psalm 43), Op. 78, No. 2
Josef Rheinberger
Canzonetta, Op. 167, No.3
Abendlied, Op. 69, No.3
Ernste Feier, Op. 174, No.7
Benjamin Britten
Rejoice in the Lamb, Op. 30
Andrew Johnstone (IRE) - Andrew is a native of Lancashire in the north-west of England. He studied organ first with the distinguished blind teacher John Robinson and later with Thomas Trotter, organist to the City of Birmingham, and read music at Oxford University Since settling in Dublin in 1989, Andrew has served as assistant organist at St Patrick's and Christ Church cathedrals and as a lecturer in music at Trinity College. In 2015, he was appointed assistant director of music at St Bartholomew's, Clyde Road. He has performed throughout Ireland and the UK, as well as in France, Germany, New Zealand and the United States. His recent research has focused on issues of pitch in the performance of Tudor music.
The Mornington Singers - www.morningtonsingers.org - Mornington Singers was the winner of the 4th International Baltic Sea Choir Competition held in Jūrmala, Latvia in September 2019. The choir was named Ireland's Choir of the Year 2019 at the 65th Cork International Choral Festival.The choir performs a broad range of choral music and specialises in a cappella repertoire, with a particular focus on music of the 20th and 21st centuries.Mornington Singers is committed to the promotion of choral music, including the commissioning of new pieces. The choir recently commissioned a major new work from Irish composer John Buckley with the support of the Arts Council, and in 2014 held a successful choral composition competition for Irish composers.Mornington Singers has established itself as one of Ireland's leading choral ensembles. In addition to its own concert programmes the choir has sung in live performances of video game music, at Electric Picnic, on film soundtracks and television and in concert with Andrea Bocelli, Lesley Garrett and David Puttnam. Competition performances have included the International Baltic Sea Choir Competition, Arezzo International Choral Competition, the Florilège Vocal de Tours, Maribor International Choral Competition and, closer to home, the international choral festivals of Cork, Derry and Sligo.Founded in 1997, Mornington Singers takes its name from the first Earl of Mornington, Garret Wellesley, who was the first Professor of Music at Trinity College Dublin.
Tickets €15 / €10 concession.
Please note that we cannot take card payments at the door. Covid certificates and masks required for entry. There will be capacity limits and social distancing in line with government health and safety guidelines.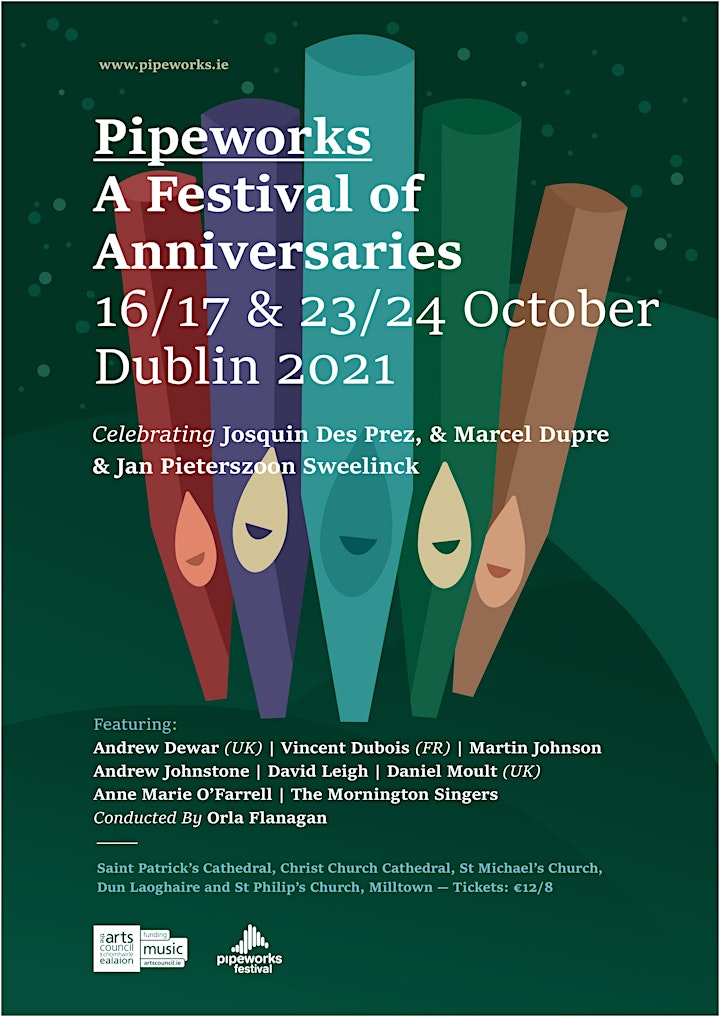 Organiser of Pipeworks Autumn Festival 2021 - Mornington Singers and Andrew Johnstone
Pipeworks - Ireland's premiere advocate of the Organ
From its beginnings in 1980 as the Dublin International Organ Festival, Pipeworks has brought to Irish audiences a diverse programme of music-making with the organ at its centre, fully exploiting not only the wonderful range of instruments to be found in Ireland, but the splendid cathedrals, churches and concert halls which house them.
Since 1980 Pipeworks has mounted fifteen major ten-day festivals, centred on the International Organ Competition which attracts young virtuosi from every corner of the world. These festivals have secured Ireland a respected position in the international organ-playing scene and enhanced the appreciation of Irish audiences for the King of Instruments, its unique and thrilling repertoire and the extraordinary talent of its players.
With the new artistic director David Leigh at the helm, Pipeworks continues to explore Ireland's organ heritage, and develop an education and outreach programme designed to introduce people to the organ, nurturing young talent and helping local communities showcase their own instruments. Pipeworks continues to present ground-breaking series of complete works, including those of J.S. Bach, Felix Mendelssohn, Dieterich Buxtehude and Olivier Messiaen, as well as the complete organ symphonies of Louis Vierne; all given by organists resident in Ireland.