Vincent Dubois presented by Pipeworks Autumn 2021 and Dún Laoghaire Organ Concerts.
About this event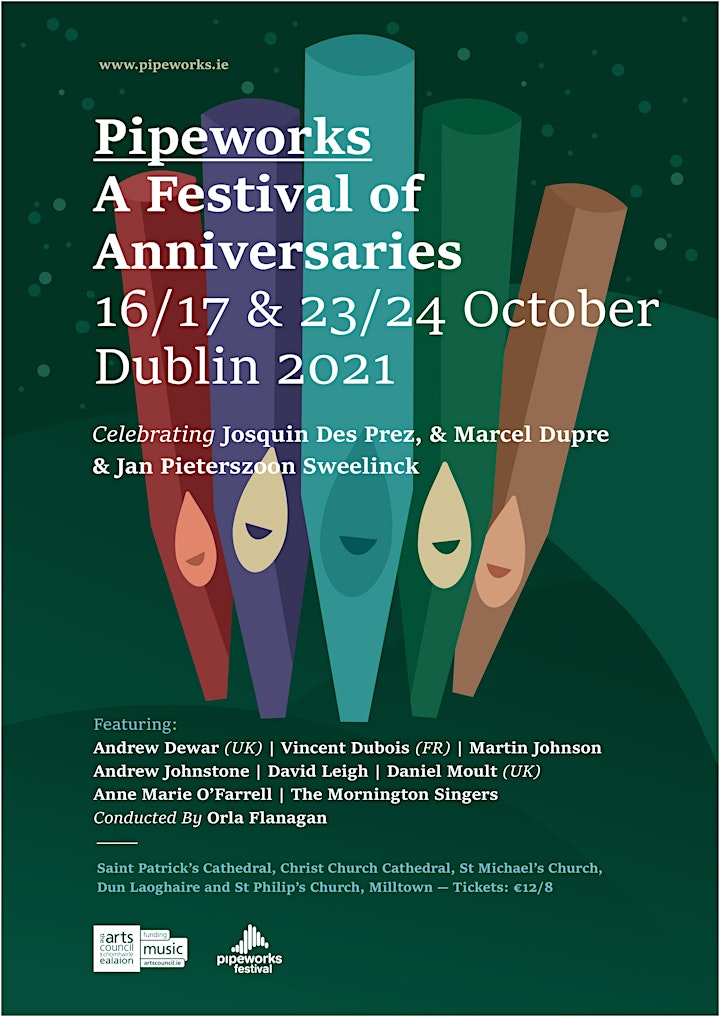 Organ Recital by Vincent Dubois (Notre-Dame Cathedral, Paris) 8pm
In partnership with Dún Laoghaire Organ Concerts, Pipeworks is delighted to welcome distinguished French organist Vincent Dubois, who holds the prestigious position of Titulaire at Notre-Dame Cathedral, Paris. He presents a programme including music by Dupré and his pupil Jeanne Demessieux and will also include some improvisation, a skill in which he enjoys a worldwide reputation.
Johann Sebastian BACH 1685-1750 | Prelude and fugue in E-flat BWV 552
Max REGER 1873-1916 | Orgelstücke, Op. 59 no. 9 Benedictus
Maurice DURUFLÉ 1902-1986 | Prelude and fugue on name ALAIN, Op. 7
Gaston LITAIZE 1909-1991 | Douze Pièces, Lied
Marcel DUPRÉ 1886-1971 | Prelude and fugue in G minor, Op. 7 and Évocation Poème Symphonique, Op. 37 III Final
Improvisation on the name of 'Jeanne Demessieux '
Tickets €12 / €8
Vincent Dubois (FR) - One of the three titular organists at Notre-Dame Cathedral in Paris, France, Vincent Dubois is one of the finest concert organists to appear on the world stage in many years. He is a graduate of the Conservatoire National Supérieur de Musique in Paris and earned First Prizes in Organ (Olivier Latry's organ class), Harmony, Counterpoint, Fugue and 20th-century composition. In January 2016, after a comprehensive audition and competition for the available post, Mr. Dubois was appointed the newest of three titular organists of Notre-Dame Cathedral in Paris, where he will serve along with the two other titular organists, Olivier Latry and Philippe Lefebvre.Mr. Dubois took the world's stage early in his career when he won two major organ competitions in 2002: the Recital Gold Medal at the 2002 Calgary International Organ Competition, and the Grand Prize at the 2002 International Competition of Toulouse, France. As a result of these prizes, Mr. Dubois has performed in major concert venues throughout Europe, North America, Asia and the Pacific. His performances have included numerous international music festivals, venues such as Musikverein in Vienna, Tchaikovsky Hall in Moscow, Suntory Hall in Tokyo, Mariinsky Theatre in Saint-Petersburg, Berlin Philharmonie, Kimmel Center in Philadelphia, Spivey Hall in Atlanta, Auditorium Nacional in Madrid, Maison Symphonique in Montreal, Bartok Hall in Budapest, Gewandhaus in Leipzig…and has also appeared as guest soloist with several orchestras and ensembles, including the Philadelphia Orchestra, the Los Angeles Philharmonic, the Dallas Symphony, the Hong-Kong Philharmonic, the Orchestre Philharmonique of Radio France, the Orchestre National de France, Orchestre Symphonique of Basel, Orchestra the Orquesta Filharmonica del Gran Canaria, the Orchestre de Picardie, and the Orchestre National de Lorraine, the Orchestre de Picardie, Orchestre de Bretagne.. His performances have been broadcast over Radio France, the O.R.F. Vienna, CBC Radio Canada, Australian Radio and American Public Media's Pipedreams. In addition, he has been invited to teach organ master classes at such prestigious institutions as Yale University, Eastman School of Music in Rochester, Curtis Institute of Music in Philadelphia, Oberlin College, Baylor University, St. Paul University, Emory University, and the University of Michigan in Ann Arbor where he served as Continuing Guest Artist for a two-year period (2014-2016). In 2017 he was a featured performer at the American Guild of Organists pedagogy conference held at the University of Kansas, and in 2018 he was a featured performer at The American Guild of Organists national convention in Kansas City, MO. Dubois has made several recordings, including a CD of the organ music of Franz Liszt available on the Vox Coelistis label; a CD on the JAV label recorded at St. Sulpice in Paris; and on the Radio France and Tempéraments label a recording at St. Etienne de Caen, which features the complete 3rd Symphonie of Louis Vierne and the Op. 7 Preludes and Fugues of Marcel Dupré. In addition to his extensive performing and teaching activities, Mr. Dubois has held the post of Director General of the Strasbourg National and Superior Conservatory of Music in France since January 2012 and teaches also organ at the Freiburg Musikhochschule (Deutschland).
Please note that we cannot take card payments at the door.Covid certificates and masks required for entry. There will be capacity limits and social distancing in line with government health and safety guidelines.
Organiser of Pipeworks Autumn Festival 2021 - Organ Recital by Vincent Dubois
Pipeworks - Ireland's premiere advocate of the Organ
From its beginnings in 1980 as the Dublin International Organ Festival, Pipeworks has brought to Irish audiences a diverse programme of music-making with the organ at its centre, fully exploiting not only the wonderful range of instruments to be found in Ireland, but the splendid cathedrals, churches and concert halls which house them.
Since 1980 Pipeworks has mounted fifteen major ten-day festivals, centred on the International Organ Competition which attracts young virtuosi from every corner of the world. These festivals have secured Ireland a respected position in the international organ-playing scene and enhanced the appreciation of Irish audiences for the King of Instruments, its unique and thrilling repertoire and the extraordinary talent of its players.
With the new artistic director David Leigh at the helm, Pipeworks continues to explore Ireland's organ heritage, and develop an education and outreach programme designed to introduce people to the organ, nurturing young talent and helping local communities showcase their own instruments. Pipeworks continues to present ground-breaking series of complete works, including those of J.S. Bach, Felix Mendelssohn, Dieterich Buxtehude and Olivier Messiaen, as well as the complete organ symphonies of Louis Vierne; all given by organists resident in Ireland.