Christ Church's Director of Music Tom Little starts our virtual festival with a dynamic programme honouring Dupré and Demessieux
About this event
Christ Church's Director of Music Tom Little starts our virtual festival with a dynamic programme honouring Dupré and Demessieux, performed on the organ of Christ Church Cathedral.
Programme:
Prelude and Fugue in Eb BWV 552 Bach
Versets sur "Ave Maris Stella" Op 18 Dupré
"Crucifixion" from Symphonie-Passion Op 23 Dupré
Erbarme dich, mein Got BWV721 Bach
Chorale Prelude on "Stabat Mater" Demessieux
"Resurrection" from Symphonie Passion Op 23 Dupré
​
Tickets: €10 | Streamed on You Tube and available for subsequent on-demand viewing for 7 days.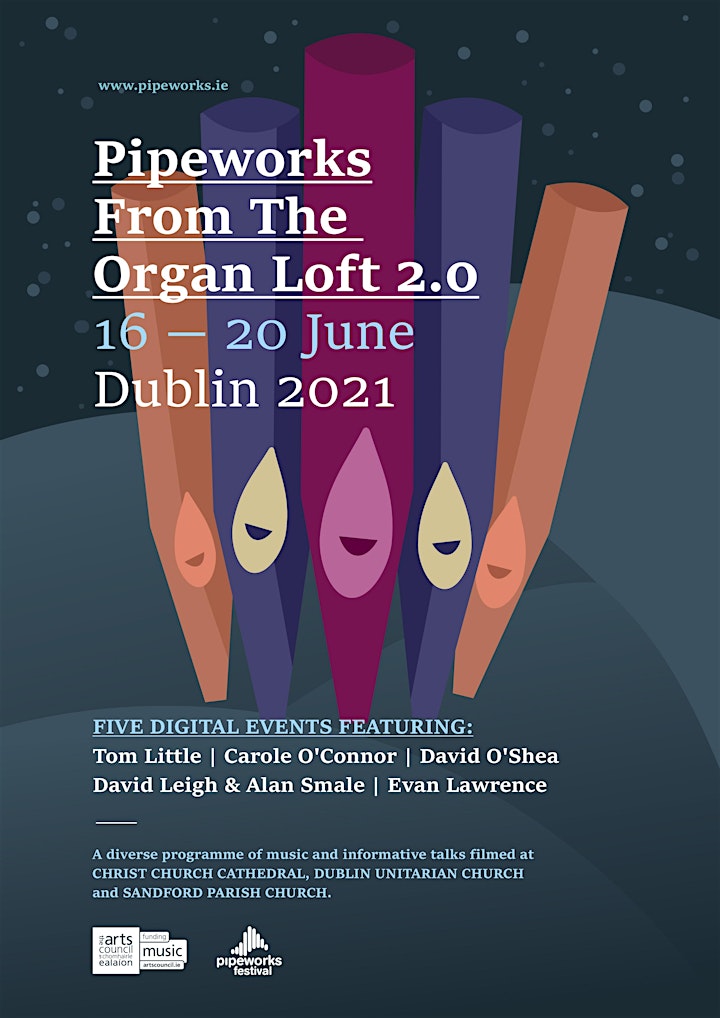 Date and time
Location
Refund policy
Organiser of Pipeworks From the Organ Loft 2.0 - Tom Little
Pipeworks - Ireland's premiere advocate of the Organ
From its beginnings in 1980 as the Dublin International Organ Festival, Pipeworks has brought to Irish audiences a diverse programme of music-making with the organ at its centre, fully exploiting not only the wonderful range of instruments to be found in Ireland, but the splendid cathedrals, churches and concert halls which house them.
Since 1980 Pipeworks has mounted fifteen major ten-day festivals, centred on the International Organ Competition which attracts young virtuosi from every corner of the world. These festivals have secured Ireland a respected position in the international organ-playing scene and enhanced the appreciation of Irish audiences for the King of Instruments, its unique and thrilling repertoire and the extraordinary talent of its players.
With the new artistic director David Leigh at the helm, Pipeworks continues to explore Ireland's organ heritage, and develop an education and outreach programme designed to introduce people to the organ, nurturing young talent and helping local communities showcase their own instruments. Pipeworks continues to present ground-breaking series of complete works, including those of J.S. Bach, Felix Mendelssohn, Dieterich Buxtehude and Olivier Messiaen, as well as the complete organ symphonies of Louis Vierne; all given by organists resident in Ireland.