This programme showcases Maurice Duruflé's hauntingly beautiful Requiem Mass and Kenneth Leighton's masterful Concerto for Organ.
About this event
IN MEMORIAM
Kenneth Leighton 1929-1988
Concerto for Organ, String Orchestra and Timpani Op 58 (1970)
Lament - Toccata - Chorale and Variations
Maurice Duruflé 1902-1986
Requiem Mass Op 48 performed in the composer's reduced-orchestrated version for organ and strings
Introit - Kyrie - Offertorium - Sanctus and Benedictus - Agnus Dei - Lux Aeterna - Libera me - In paradisum
Pipeworks Festival Orchestra (Leader Therese Timony) and Consort of Voices
Tristan Russcher, Organ
David Leigh, Conductor
Recorded in Saint Patrick's Cathedral
Ruairí Conaty, Steadicam
John O'Neill, Camera and Video Production
Brian McIvor, Camera and Audio Production.
This programme showcases Maurice Duruflé's hauntingly beautiful Requiem Mass, performed in the composer's reduced-orchestrated version for organ and strings. Duruflé's music is suffused with the influence of the chants of the Requiem Mass, to such an extent that it is sometimes difficult to decide where composition ends and quotation begins.
The first of the programme comes from the other side of the channel. Kenneth Leighton was a distinguished composer who held posts at Oxford and Edinburgh universities, and produced a large body of work in various styles. The Organ Concerto is a seldom performed but masterful, exciting and expressive work dating from 1970; it fulls exploits the full resources of both solo instrument and orchestra.
Pipeworks is delighted to welcome Tristan Russcher as concerto soloist. Tristan has a long association with us, being a former prizewinner (in 2005), and has participated in several subsequent festivals. He was sometime organ scholar of Dublin's two Anglican cathedrals, and subsequently Assistant Director of Music at Christ Church Cathedral. He is now Director of Music in St Bartholomew's Church, Clyde Road.
The Pipeworks Festival Orchestra and Consort have been assembled especially for this event, and are drawn from Dublin's finest professional musicians.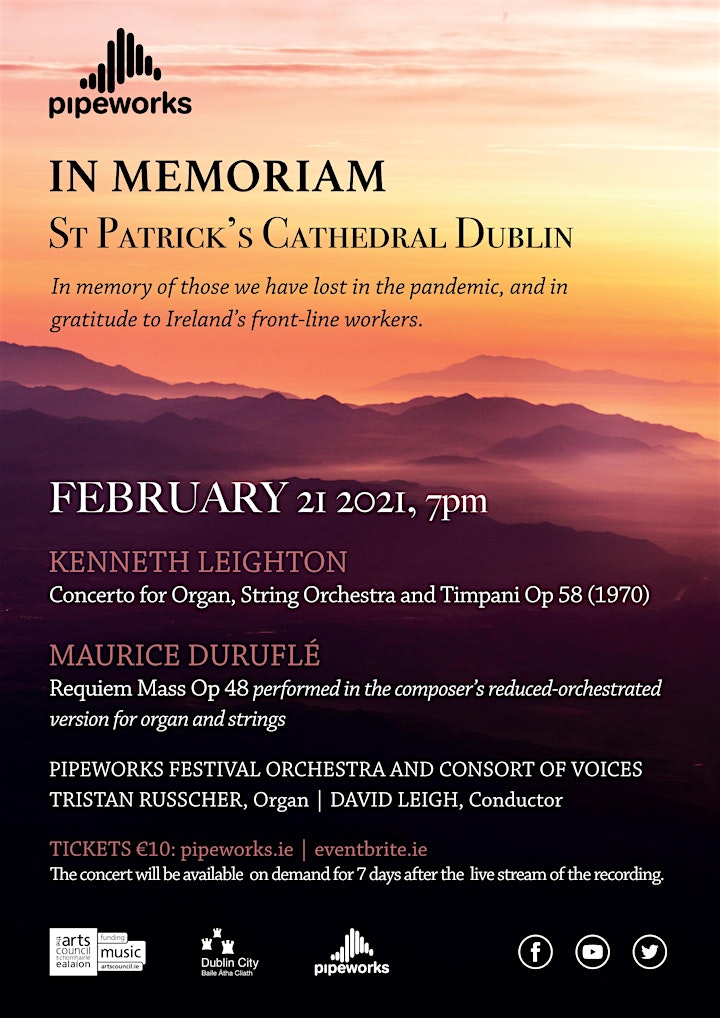 Date and time
Location
Refund policy
Organiser of Pipeworks presents IN MEMORIAM
Pipeworks - Ireland's premiere advocate of the Organ
From its beginnings in 1980 as the Dublin International Organ Festival, Pipeworks has brought to Irish audiences a diverse programme of music-making with the organ at its centre, fully exploiting not only the wonderful range of instruments to be found in Ireland, but the splendid cathedrals, churches and concert halls which house them.
Since 1980 Pipeworks has mounted fifteen major ten-day festivals, centred on the International Organ Competition which attracts young virtuosi from every corner of the world. These festivals have secured Ireland a respected position in the international organ-playing scene and enhanced the appreciation of Irish audiences for the King of Instruments, its unique and thrilling repertoire and the extraordinary talent of its players.
With the new artistic director David Leigh at the helm, Pipeworks continues to explore Ireland's organ heritage, and develop an education and outreach programme designed to introduce people to the organ, nurturing young talent and helping local communities showcase their own instruments. Pipeworks continues to present ground-breaking series of complete works, including those of J.S. Bach, Felix Mendelssohn, Dieterich Buxtehude and Olivier Messiaen, as well as the complete organ symphonies of Louis Vierne; all given by organists resident in Ireland.