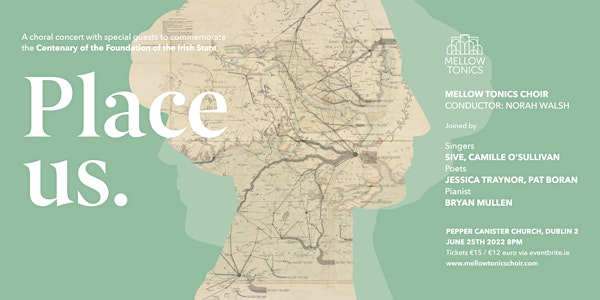 Place Us
Annual Mellow Tonics concert with special guests to commemorate the Centenary of the Foundation of the Irish State.
When and where
Location
Pepper Canister Church 7 Mount Street Crescent D02 HC65 Dublin 2 Ireland
About this event
This is the annual Mellow Tonics Summer Concert and this year, we celebrate the centenary of the foundation of the Irish State, through music and spoken word.
The choir will be singing a programme of works, including contemporary compositions from our Musical Director Norah Walsh. We will also be joined by vocalist, and actress Camille O'Sullivan, alt-folk vocalist Sive and poet, essayist and librettist Jessica Traynor and Pat Boran, poet, publisher of the Dedalus Press, and regular contributor on RTE Radio.
The four corners of the country are represented across a mix of of old and new works of different genres in an expression of our rich cultural heritage. Other themes run through these works, from romantic love to nationalism, from the old Irish nobility to love of nature. As well as coming from different places the songs are also from different eras of Irish history, reflecting on glorious times gone by, battles lost and won, life in a pandemic.