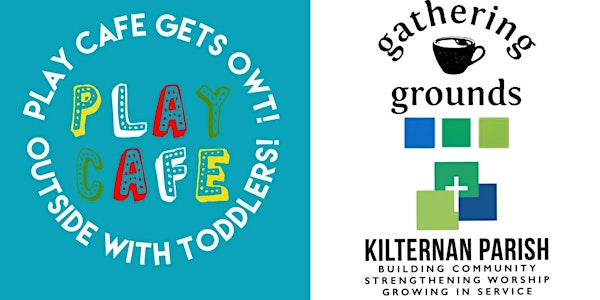 Multiple dates
Play Café Gets OWT! Outdoors With Toddlers Spring
Come and join Play Café @ the Gathering Grounds- for parents, grandparents, carers and their young children
Date and time
Wed, 1 Mar 2023 10:00 - Wed, 26 Apr 2023 11:30 GMT
Location
Kilternan Parish Church Enniskerry Road Kilternan Ireland
About this event
Play Café Gets OWT! The OWTdoor part of Play Café Gets OWT! Outddors Witth Tooddlers. We hope to begin to move as many of our sessions back to the outdoors over the course of the Spring block as the weather improves.
You are always sure of a warm welcome and lots of fun at Play Café Gets OWT! and we are always delighted to see both new and familiar faces.
We have a limited number of places available each week and we ask that you pre-book your family space via Eventbrite.
As we will have some messy activities (messtivties!) , please come dressed for the mess! (you may consider bringing a change of clothes for your little one. Activities each week are linked to a book/theme with a variety sensorial, messy play, art and losse parts activities and almost always our homemade playdough. We finish our time together with story and song time.
The various activities are set up individually at spaced out stations at different heights - on tuff trays , low tables and on rugs . The set-up encourages child-led engagement and each child can decide on their play.
On arrival, you will be asked to sign in. Although you are responsible for your children there will always be at least 2 helpers present to help keep everyone safe.
We look forward to seeing you all and make lots of memories together.
The Play Café Gets OWT! Team x
Here are the details to help you prepare to come
• The group will run from 10:00-11:30 am. Don't worry if you don't arrive right on time as the set up allows for flexibility.
• Pre book your slot - one booking will cover a family.
• If you find you no longer can use your booked space please let us know so we can free it up for someone else as we do run a cancellation/waitlist each week.
• Please do not attend Play Café Gets OWT if you or a member of your household is experiencing, or recovering from symptoms of COVID-19.
• The Gathering Grounds Café is open for you to enjoy before, after or during Play Café Gets OWT!..
• There is a suggested donation of €5 (if you can) per session, which goes towards resources. You can donate via cash on the day or through the parish Revolut. Please reference your payment PC. This is a donation and there is no obligation to donate, in order to attend.
• Bookings close 16 hours ahead of each session i.e. 4pm every Tuesday
For further queries contact Lynn Storey, Family & Children's Worker 087 6957061