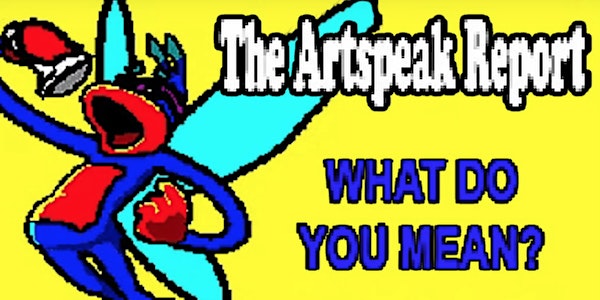 Please don't talk to me about art
Location
Temple Bar Gallery + Studios
5-9 Temple Bar
D02 AC84 Dublin 2
Ireland
Series of screenings relating to contemporary art and institutional practice hosted by Temple Bar Gallery + Studios
About this event
Please don't talk to me about art is a series of informal screenings curated by Alice Quinn Banville and Kasia Boyle, hosted by Temple Bar Gallery + Studios. The series takes its name from a work by artist Magda Archer and captures the feelings of ambivalence, irony and conflict that can occur when working with art.
Next in the series is 'The ARTSPEAK Report', made by artist Brad Troemel as part of his Art Report series published on Patreon. Troemel works as an artist, writer and teacher in New York, known for his internet-based work such as Tumblr site The Jogging, exhibitions using Bitcoin and Silk Road black market and recent meme page @maincharactersandevents. His Art Report videos break down contemporary trends in art and culture: selfies, NFTs, millenial aesthetics, Qanon and the culture war. In this report, Troemel explains how hyperbolic and inaccessible language is often used by artists and institutions to construct their own sense of identity and value.
Previously, we've watched Give Up On Hopes And Dreams, a 2018 documentary on Terre Thaemlitz (aka DJ Sprinkles) made by Resident Advisor and Andrea Fraser's Official Welcome, a performance piece embedded within an exhibition launch at the Kunstverein in Hamburg in 2003. Similar to Thaemlitz and Fraser, Troemel's work is funny and self-aware in its critique of art, its institutions and the labour involved.
The third instalment of Please don't talk to me about art will take place in Studio 6 in Temple Bar Gallery + Studios this Saturday 14th May at 6pm. The screening is 45 minutes long with time afterwards for discussion. Entrance is via the side door to the building, contact alice@templebargallery.com with any questions.
Supported by Temple Bar Gallery + Studios as part of the Free Space programme. Free Space creates the opportunity for artists to access space in the city for peer learning, artist exchanges, project development and presentations.