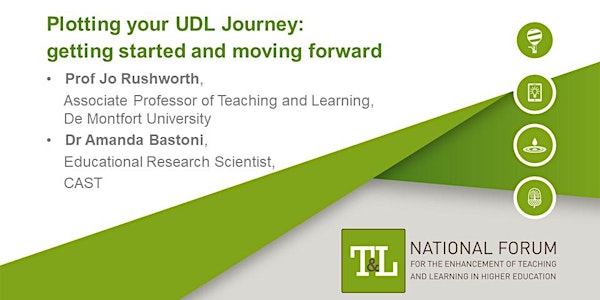 Plotting your UDL Journey: getting started and moving forward
This session will focus on developing excellence in inclusive practice in both student interactions and in classroom co-creation.
By Teaching and Learning Unit, MTU Cork
Date and time
Tue, 11 Jan 2022 05:30 - 08:30 PST
About this event
Presented By
Prof Jo Rushworth, De Montfort University
Dr Amanda Bastoni, CAST
Seminar Description
In this online seminar, we will be joined by Prof Jo Rushworth, DMU Teacher Fellow and Senior Lecturer in Biochemistry in the School of Allied Health Sciences, De Montfort University, and by Dr Amanda Bastoni, Educational Research Scientist at CAST.
Prof Jo Rushworth will draw on her experience as a UDL champion for her School as she outlines a range of options and starting points for colleagues who are starting out on their Universal Design journey. This work focussed on providing students with flexible learning resources, flexible ways to engage with their learning and flexible ways to demonstrate knowledge and skills, that impacted both learning and teaching and institutional policy. In an interactive presentation, Jo will tell us about how the UDL guidelines were brought to life and implemented across DMU and will lead us in a discussion of early steps toward achieving UDL compliance in teaching practice and of options for continuing development and enhancement. Jo's work on co-creation with students will be among the highlights from her case study.
Expanding on some key themes from Jo's presentation, Dr Amanda Bastoni's workshop will introduce the concept of co-design and (using the UDL framework) will highlight how educators can increase creativity, collaboration, and learning in their classroom by designing learning with their students. In the workshop, we will cover the why and how of co-design, including stories from the field, resources, and strategies educators can use immediately - in any learning environment.
Those who participate in this seminar will learn to:
Apply early steps, approaches and strategies to confidently initiate inclusive practice in their student interactions
Build upon these early steps iteratively over time, moving toward excellent inclusive practice
Participants will learn how to approach classroom co-creation with students using UDL as a framework
Participants will learn how to leverage the UDL framework and the process of co-creation to increase creativity, collaboration, and learning in their classrooms
Presenter Biographies
Prof Jo Rushworth, De Montfort University
Jo Rushworth is Professor of Bioscience Education and a National Teaching Fellow (NTF). Jo won the Biochemical Society's Teaching Excellence Award 2020 and shared a Learning Science Teaching Innovation Award for an escape-the-lab game that was co-created by her dissertation project student in 2021. She is an international expert in Universal Design for Learning (UDL) and a leader in co-creation in Higher Education. Jo's co-created website www.lecturemotely.com hosts resources for remote teaching, learning, assessment and student support. Jo advocates "lecturer as learner" and has been learning Mandarin Chinese at DMU's Confucius Institute for two years, which informs her pedagogic approach through a student's-eye view. Her current pedagogic interests include inclusive co-creation, developing blended UDL practices, inclusive and more authentic assessment, flipped feed-in to replace feedback, transitions, representing all students in HE, gamification and game-based learning.
Jo co-created De Montfort University's new Post-Graduate Certificate in Higher Education (PGCLTHE) in 2017, building the initial module around the principles of UDL. She designed the Golden Ideas workshops for staff which embody a UDL approach to teaching, assessment and feedback.
Jo's scientific research background is in Alzheimer's disease, which is the most common form of dementia. Her recent research has focused on developing a portable biosensor as a cheap and easy way of diagnosing Alzheimer's disease sooner. Recently, Jo invented a new biochemical method which she named "midland blotting" in homage to her Leicester roots. During her Wellcome Trust-funded PhD at the University of Leeds, she studied the structural and molecular biology of Alzheimer's disease.
Amanda Bastoni is an Educational Research Scientist with CAST, a non-profit education research and development organization that created the Universal Design for Learning framework and UDL Guidelines, now used the world over to make learning more inclusive. Before joining CAST, Amanda was an accomplished Career and Technical Education (CTE) director with 20+ years of experience in K-12 Educational Leadership, journalism, and business.
Amanda has a proven record of achievement including being named the 2019 NH CTE Leader of the Year. During her time in education Amanda has focused on increasing equity and access for special populations in CTE. Specifically, she sought to use UDL to increase pathways for English Language Learners and females interested in exploring STEM careers. Amanda helped start innovative cross-disciplinary programs including Robot Algebra, a course that combines math and technology, and Drones in Technology, a course that combines art and technology.
Amanda has been selected to sit on numerous education boards including the National Auto Dealers Association Education Board for N.H. Amanda has written articles for local, regional, and national publications, and in 2020 her first co-authored book was published through Rowman and Littlefield Inc.
Organised By
Dr Marian Hurley, AnSEO – The Student Engagement Office, MTU Cork
• Linda O'Sullivan, AnSEO – The Student Engagement Office & TLU, MTU Cork
• Ruth Murphy, Disability Support Service, MTU Cork
• Thomas Broderick, Sport, Leisure & Childhood Studies, MTU Cork
• Sheila Walsh, Marketing & International Business, MTU Cork
About the organiser
Office of Registrar and VP for Academic Affairs, MTU Cork