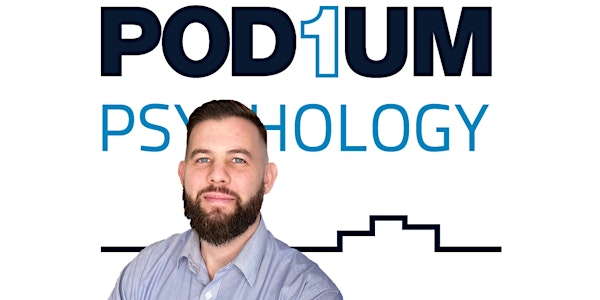 Multiple dates
Podium Psychology Live with Hugh: Private Podcast
Live call in show. You get the opportunity to see a live Podium Psychology session or even be the volunteer, and ask questions after.
By Hugh J. Gilmore of Podium Psychology
Date and time
Mon, 13 Feb 2023 12:00 - Mon, 10 Apr 2023 13:30 PST
About this event
Welcome,
If you want to know just how powerful Motivational Interviewing is for helping people make the changes they want in life and helping them get unstuck, then tune in with Hugh at 8.00pm on Monday night.
Why?
We want to normalise the use of psychology services and remove the "smoke and mirrors" .
This is a live broadcast, we aim to remove the mystery behind what actually goes on by demonstrating live psych support. We hope that by listening to others with similar issues, you too may be able to get closer to hitting your goals or maximising your performance.
What:
Using Motivational Interviewing, Hugh will help an audience volunteer work through an issue they are struggling with. This may be a general problem, a performance problem, a health problem, or anything else that the person is having difficulty achieving. Afterwards, people will be invited to ask questions about what they observed, or other short questions, which they would like Hugh to answer.
How can I be a volunteer?
We appreciate that people will be keen to volunteer. We will prioritise those who get in touch in advance by email to volunteer.
The only requirement is that you have a problem that you are stuck with, and are having difficulty with changing your behaviour and that you are free to speak for 40-55 minutes. It might be a problem with weight loss, training adherence, quitting smoking, or dealing with anything where you want to change your behaviour so you can change your outcomes. The more difficult it is, the better!
In every session we will invite an audience to volunteer to take part (if there is not a prearranged volunteer who contacted by email). You just need your microphone on, and as we prefer anonymity we suggest you change your name. You can also turn your camera off if you wish.
If you want to ensure you are selected for the live demo please pre-arrange by emailing podiumpsychology@gmail.com to prevent disappointment.
We are happy to deal with any issue presented, but as we want you to feel comfortable please only disclose what you feel comfortable with. We do prefer if you remain anonymous, so please do not mention identifying features like names or places of work etc. Also if it is a very serious or raw issue this may not be an ideal setting for it, please consider what you are comfortable with in advance. on a scale of 0-10 with ten being very serious,
FAQs
I can't make Mondays but want to attend, can I catch up?
We will be sharing these sessions after each live recording, but only with those who are registered through Eventbrite initially. We may consider releasing them to non-subscribers in part or in whole at a later date.
I dont want to be anonymised. Is this optional?
We vastly prefer it, and will most likely choose those who are anonymised on the call over those who are not. Your privacy is important to us, it allows you to also speak your truth and be more comfortable. You will however have to share your real name and email with us to get access to the call.
Who is Hugh J.Gilmore?
Hugh is a member of the Motivational Interviewing Network of Trainers and a Performance Psychologist with over a decade in supporting Olympic and Paralympic champions and World champions. You can find out more here.
I want to learn Motivational Interviewing with Podium Psychology. Is this possible?
If you are somebody who is interested in getting trained by Hugh in motivation interviewing, there are two options:
1. You can sign up for our online course Change Conversations: The Art of Meaningful Connection it is fully refundable if you go on to do further training with us, so it is a safe way to explore whether this is useful to your profession or life.
2. If you are 100% sure that you want trained up in this skillset you can sign up to the annual training here though places are limited.
Can I book in privately to see Hugh?
No, unfortunately Hugh has a very long waiting list. We are currently developing a referral list to other people who have been trained in Motivational Interviewing by Hugh who you could book in with instead.
How can I get in contact?
You can email podiumpsychology@gmail.com or book in a 20 min call here.
I want to volunteer but I am nervous?
Firstly we want you to be comfortable, if you are interested in seeing an example conversation then here is a long one and a short one