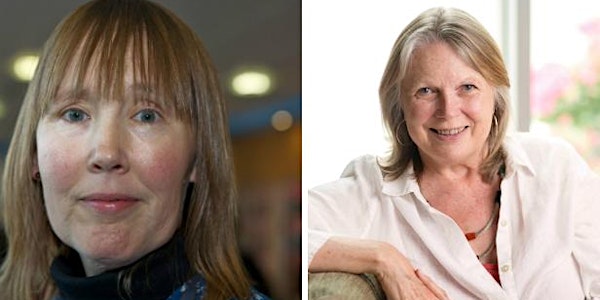 Poems Upstairs: Katie Donovan & Peggy O'Brien
When and where
Location
Books Upstairs Ltd. 17 D'Olier St Dublin 2 Ireland
Refund Policy
Contact the organiser to request a refund.
Description
Two friends from opposite sides of the Atlantic share their sumptuous, humorous, delightful and insightful poetry.
Katie Donovan's visceral poems lead the reader through new sensations, landscapes and perceptions. She writes about the hungers which haunt our flesh and our fantasies, with daring imagery interwoven with language by turns playful and elegiac. A former features journalist with the Irish Times, Katie lives in Dalkey and has broadcast her poetry on RTÉ Radio One. Her work appears in the best-selling poetry anthology, Staying Alive, edited by Neil Astley. Rootling: New & Selected Poems, Katie's most recent collection, was published by Bloodaxe Books.
The renowned American poet and literary critic JD McClatchy described Peggy O'Brien's poetry as "…both sumptuous and skeptical. For every lustrous description there is a pang as it disappoints or dissipates. The poems… are smart and sympathetic, rich and surprising. You read them and the skies clear".
The author of three collections of poems, Sudden Thaw, Frog Spotting and Trusting Ice, Peggy O'Brien is also the editor of the Wake Forest Book of Irish Women's Poetry, and Writing Lough Derg: from Carleton to Heaney.She spent half her teaching career at Trinity College, Dublin and the other half at the University of Massachusetts, Amherst.
Poems Upstairs is Poetry Ireland's monthly poetry club offering Dublin's poetry and culture fans a convivial place to enjoy great poetry. The series takes place in the new Books Upstairs premises on D'Olier Street and includes readings by established poets, well-known special guest readers, the very best of new Irish poetry and an entertaining live music mix. Tickets include a glass of wine."Disarming candour, detachment, intense emotion, and violent, savage imagery…thoughtful and precise, Donovan's tough, compassionate, practical intelligence is tempered by humour, grace and a pleasure in playfulness" – Eileen Battersby, Irish Times.
"[Peggy O'Brien] Puts words on exactly the kind of emotions that censors fear most: subtle, elusive and tinged with erotic intensity." The Irish Times, 'Books of the Year'
Presented by Poetry Ireland