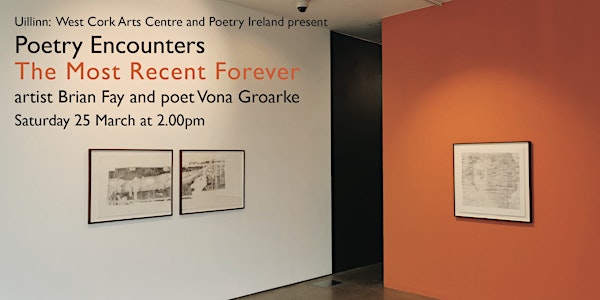 Poetry Encounters: The Most Recent Forever
Poetry Encounters is a series of artist-poet readings and discussions, presented in association with Poetry Ireland
By Uillinn: West Cork Arts Centre
Date and time
Sat, 25 Mar 2023 14:00 - 15:00 GMT
Location
West Cork Arts Centre Uillinn P81 VW98 Skibbereen Ireland
About this event
Join us for a special poetry encounter at Uillinn: West Cork Arts Centre between poet Vona Groarke and artist Brian Fay whose exhibition The Most Recent Forever provides a space for reflection on different ideas of time and how we might understand them, and an overview of the artist's drawing practice that has, for the last two decades, explored ideas of temporality, change and ephemerality in artworks as a way of standing in for our own experience of time.
In this encounter, Brian will share and exchange insights into his work with Vona who will read from her latest writing, explore the exhibition, and consider how the visual arts have influenced her work.
Poetry Encounters is a series of artist-poet readings and discussions, presented in association with Poetry Ireland in galleries all over Ireland.
Brian Fay is an Irish artist living in Dublin, his practice is rooted in drawing and he uses the materiality of pre-existing artworks and objects to examine our complex relationship to time. His work is in the National Drawing Collection Ireland, and the collections of The Arts Council of Ireland, The Crawford Art Gallery, Cork, Office of Public Works Irish State Collection, Technological University Dublin, and private collections. He is the winner of the 2014 Derwent International Drawing Prize and the AXA Drawing Prize 2016. In 2022, he undertook an artist residency at the Anni and Josef Albers Foundation, Connecticut, USA.
Poet, essayist, reviewer and editor, Vona Groarke is the current Writer in Residence at St John's College, Cambridge, UK. Her work has recently appeared in New York Review of Books, LA Review of Books, PN Review and Poetry Review. Of her eight poetry collections, the most recent is Link: Poet and World (Gallery Press, 2021). Her Selected Poems won the 2017 Pigott Prize for Best Irish Poetry Collection. Her thirteenth book, Hereafter: The Telling Life of Ellen O'Hara is a poetic account of Irish women domestic servants in 1890s New York. It arose out of her time as a Cullman Fellow at the New York Public Library (2018-19) and was recently published by New York University Press.
Vona is currently writing a text for the publication, The Most Recent Forever . The publication, which will be published later this year, is designed by Oonagh Young and also includes a text by art historian Tim Stott.
The Most Recent Forever is a touring exhibition supported by the Arts Council / An Chomhairle Ealaíon, in partnership with Highlanes Gallery, Drogheda (lead partner) and Limerick City Gallery of Art.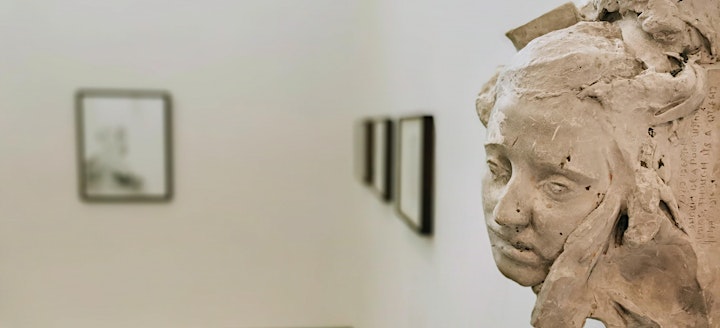 About the organiser
Uillinn: West Cork Arts Centre is a hub of arts activity right in the heart of Skibbereen. Its two main galleries house contemporary art exhibitions that intrigue and inspire, presenting artwork by local, national and international artists and a programme of guided tours, gallery talks and free gallery resources such as the Discovery Box for families and Children's Activity Sheets.
The three Artists' Studios provide space for Irish and international artists to work on site and to meet the public and the Dance Residency brings top-class contemporary dancers, choreographers, performers and musicians to Uillinn to develop new work and present it to the public throughout the year.
The vibrant and diverse education programme enriches the visitor experience through workshops, masterclasses, dance and discussion platforms and encourages equality of access for people of all ages and cultures through its long-term programmes and projects.
Many of the programmes and events are free of charge.
Perfect for rainy day activities, or to relax and enjoy a delicious coffee and cake in the sunny, sheltered courtyard courtesy of The Coffee Shop at Uillinn, West Cork Arts Centre has something for everyone.
With an average of 20 programmes and events every week, keep up to date on all that Uillinn has to offer by following on facebook and twitter and check out
www.westcorkartscentre.com