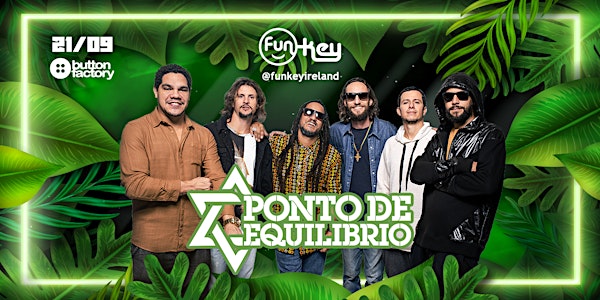 Ponto de Equilíbrio in Dublin
Fun Key presents PONTO DE EQUILÍBRIO in Dublin for the 1st time!
When and where
Location
The Button Factory Curved Street Dublin Ireland
Refund Policy
Refunds up to 30 days before event
About this event
Dia 21 de setembro é comemorado o Dia da Árvore no Brasil e em 2022 teremos a honra de celebrar esse dia aqui na Irlanda com os autores do clássico 'Árvore Do Reggae', a banda PONTO DE EQUILÍBRIO!
Estamos muito felizes de trazer o Ponto de Equilíbrio pela primeira vez pra Ilha Esmeralda, uma banda que fez parte da nossa e de muitas pessoas durante a adolescência e continua sempre presente nos dias de hoje.
'O Ponto de Equilíbrio, uma das principais referências do reggae nacional, resgata a sonoridade que escreveu o nome da banda na história da música brasileira, o autêntico reggae roots e mescla com elementos mais modernos da música atual.
Foram com as influências das músicas jamaicanas e afrobrasileiras que a banda conquistou uma legião de fãs que os levaram a grandes palcos do Brasil e do mundo.'
📅 QUARTA-FEIRA | 21 de Setembro
⏰ 19:30
📍 Button Factory (D02 RD26)
◼◾▪ TICKETS ▪◾◼
🔸 Pista
Super early bird: €25 + Taxas
Early bird: €30 + Taxas
General admission: €35 + Taxas
🔹 Camarote
Early bird: €40 + Taxas
General admission: €45 + Taxas
*Vantagens do camarote: acesso ao setor superior com vista privilegiada do palco e um bar exclusivo.
▪ Ticket SEM taxas
Por favor entre em contato pelo nosso Instagram 😉
Realização: Fun Key events and artists management
Siga nosso Instagram: @funkeyireland