Learn herbs that can be used as an intervention for all sorts of UTI's, Cystitis, bladder infections & toilet discomfort both OTC/clinical.
About this event
Lara Jonasdottir, Clinical team leader of Dr Clare Clinic & Apothecary will be talking all things #urinary #bladder #UTI #cystitis
There are a variety of herbs that can be used as an intervention for all sorts of infections, inflammation and general discomfort. More people are starting to get the courage to talk about incontinence, recurrent infections, fear of not being near a toilet, recurrent antibiotic use and so much more.
We always say that to take control of your health you need to empower yourself with the knowledge.
We have over the counter and clinical solutions.
Don't suffer in silence.
Join us for this free talk.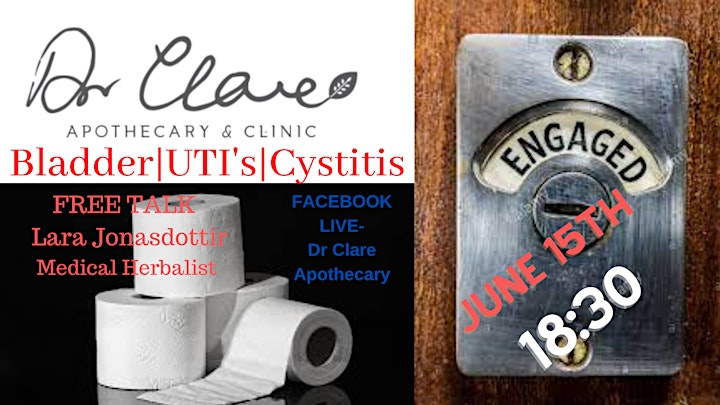 Organiser of Popular Herbs for Bladder, Cystitis and UTI's
Dr Clare GP & Medical Herbalist started this integrated clinic and Herbal medicine shop in 1996 when she moved from her busy GP practice in London. Upon completion of her degree in herbal medicine she decided to commit to using the herbs as her primary source of healing her patients.
Since then it has grown to include 100's of Irish and international herb and spice varieties.
Some are medicinal and others can be medicinal and used for cooking.
Although the clinic is the cornerstone of her practice with other medical herbalists, nutritionists and other modalities working togethor to use an interconnected approach to health and wellness now her over the counter blends are selling far and wide for all sorts of conditions.
She was invited to become a clinical fellow of NUIG and teaches the medical students every Autumn about the basics of herbal medicine.
She is currently writing her first book, due out in 2020.
Part of her mission is to empower and teach the public about the herbs through talks, workshops, webinars and herb walks.