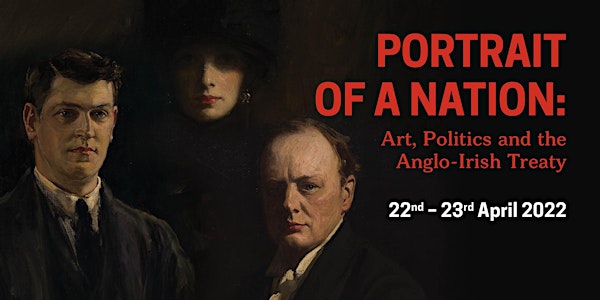 Portrait of a Nation: Art, Politics and the Anglo-Irish Treaty
Location
National Museum of Ireland - Decorative Arts & History
Benburb Street
D07 XKV4 Dublin
Ireland
This conference explores the intersection between art and politics in the context of the birth of the new Irish state
About this event
This conference, organised jointly by the Hugh Lane Gallery and the National Museum of Ireland, takes its inspiration from the 'Studio & State' exhibition, itself a collaboration between these two institutions, marking the centenary of the signing and ratification of the Anglo-Irish Treaty.
'Studio & State' features for the first time Sir John Lavery's paintings of the Treaty signatories from the Hugh Lane Gallery collection next to contemporary artefacts from the National Museum of Ireland's collection. Museum objects include the fountain pen said to have been used by Michael Collins to sign the original Treaty document and propaganda handbills.
This conference aims to explore the intersection between art and politics in the context of the birth of the new Irish state. The event brings together a broad range of speakers - historians, artists, writers and curators - to share, discuss and debate themes from the background to the signing of the Treaty in London in 1921 to its legacy and impact on ordinary Irish people; from questions around memory and trauma to the role of the artist as witness to history.
BOOKING INFORMATION
Book your place online or in person. The conference will be livestreamed on 22nd - 23rd April, and there will be a limited number of places to attend in person at the National Museum of Ireland - Decorative Arts & History, Collins Barracks.
There is a €5 per day ticket for attending the conference in person.
PROGRAMME
Friday 22nd April
9am Registration
9.15am Welcome, Dr Audrey Whitty, Head of Collections and Learning, National Museum of Ireland
9.30 - 10.30am Truce to Treaty in Ireland
Mark Duncan - Chair
Gretchen Friemann - From self-proclaimed Republic to reluctant Dominion: The imperial realities behind the 1921 Anglo-Irish Treaty
Dr Sinéad McCoole - Unreal? Who were the Laverys and what was their Nation State?
10.30 - 11am Coffee
11am - 12.40pm Politics of Identity and Place
Dr Leeann Lane - Chair
Dr Mary Staines - Identity and Place in the Treaty Debates
Dr Conor Morrissey - Protestant nationalists, and Protestant servicemen, and the Treaty
Dr Mary McAuliffe - Recognise that it was 'Sister against Sister' too! Splits, divisions and violence between women during the Irish Civil War, 1922 - 1923
Dr Cormac Moore - 'The Root of all Evil ' - northern Irish Nationalists and Unionists' reaction to the signing of the Anglo-Irish Treaty
12.40 - 2pm Lunch
2 - 4pm Cultural legacy of the Treaty
Dr William Shortall - Chair
Niamh McNally - Estella Solomons - Still Moments
Terry Moylan - "Those in power don't write the songs"
Dr Éimear O'Connor - Art, Ireland and the Irish American diaspora: Tensions in representation between 1922 and 1930
Professor Paul Rouse - Sport on a partitioned island: The Tailteann Games
Saturday 23rd April
9.30am Registration
9.45am Opening Words - Dr Edith Andrees
10am - 11.15am Divided Families
Dr Georgina Laragy - Chair
Flor MacCarthy - A Family on Both Sides - and the ripples through a Century
Liz Gillis - They Place their All on the Altar of their Century: The Hales Brothers and the Irish Civil War
Valerie Cox - Ordinary People in a time of War
11.20 - 11.45am Coffee
11.45am - 1.00pm The Artist as Witness
Logan Sisley - Chair
Niamh McCann - foreground, middleground, background
Amanda Dunsmore - Art making as Longitudinal Social Archiving
Anthony Haughey - Socially Engaged Art: Contesting Cultures, Histories and Narratives
Close