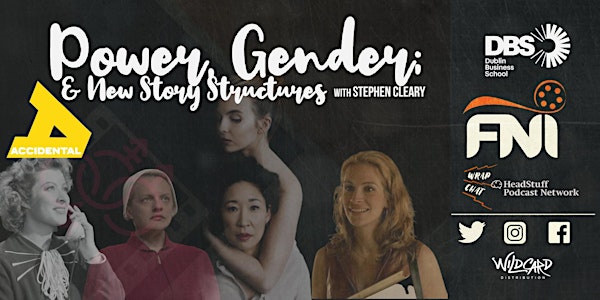 Power, Gender & New Story Structures
Power, Gender and New Story Structures.
When and where
Location
Dublin Business School Balfe Street 5 Balfe Street D02 Y622 Dublin 2 Ireland
Refund Policy
Contact the organiser to request a refund.
About this event
Split into single-gender groups, people tell stories differently. Men often tell stories with all-male characters. Women rarely tell stories with all-female characters. Women together tend to maintain a theme across their stories. Men don't. Women talk less. Men reveal less about themselves.
Gender variations within storytelling matter. Our understanding of screenwriting mostly comes from work done by men trying to figure out how the stories they told worked. The vast majority of those stories centered on male characters who were powerful or had access to power. This workshop is about characters who aren't male and powerful. How do you dramatise their stories, those characters, to make them compulsive? How do you tell stories about people who struggle for power, or who will never have power? Does power work differently for male and female characters (a:yes)? How?Come to this workshop and find out, and with any luck change how you think about story structure, forever.
We sat down with Steve for a chat about himself, his work and what to expect at the classes, If you're unsure about attending, You can listen to that Episode from a couple of days ago here:
https://audioboom.com/posts/7400342-77-stephen-cleary-writer-screenwriting-coach
Stephen writes: my new workshop comes after working with literally dozens of female Scandinavian film and TV professionals
on a number of diversity initiatives over the last 18 months or so. It originated during conversations with those women, and from my frustration at the lack of practical information out there that could help answer their questions.
Questions about what, technically, you need to know to write diverse stories well, and what new things writers need to understand if they are wanting to write about characters who are currently under-represented and operate differently from the majority of mainstream characters in cinema and television today.Together we have been looking at how power works within stories, across gender, class, and sexuality, and within various genres.
Whether the way stories are told changes in relation to what power characters hold, what gender they are, and what class. Looking at a range of factors not normally considered when people look at how to write and develop screen stories. This includes a practical exploration of how female characters have both been written and not been written, and of neglected genres where female characters traditionally thrived, to see what we can learn that we can apply anew today.Why? Well, the traditional lead character model in screenwriting in the late 20th century was based on ideas explored, defined and popularized almost entirely by white men, and resulted in stories favoring single white male heroes. That's no longer adequate in a world where the characters we want to explore are often diverse and non-uniform. It's not as simple as saying "well, we'll concentrate on different kinds of characters, of different gender, race and sexual identity." Much of the way we write characters is based on the traditional ideas we are looking to move beyond. The issues are a lot deeper than the surface nature of our characters.
The idea of a clear journey through a world assumes that there is one world a character is moving through. But we exist in worlds within worlds. You might live in an immediate world where your skin color is unimportant but work in a world where your skin color defines how you are treated. Being a woman wishing to work may be a huge problem in your family world, and of little importance in your working world. And you may be hiding the fact that you are a lesbian from everyone, in both worlds. Your sexuality is a secret third world.
Where is your single journey in that story? What single world are you moving through? You don't fit the model. Does that mean we can't write you? Of course not. We need to look at character in new ways, ways that give us useful practical knowledge that helps us to write well. And will result in new kinds of story structures and of the revival of story structures we once knew well but have long neglected. A good place to start this new approach is to explore the relationship between Character and Power. This is at the heart of my new workshop, because understanding how Power works in a story, who has it, what you must do to get it, and what happens when you try, gives insight into the nature of character and action in a way that linear models of character development don't. It leads you to the heart of your character story. Understanding the dynamics of a story of a woman in a man's world is relatively simple. This kind of story is a "single-world story", where there is only one power hierarchy for her to navigate. "Silence of the Lambs" is this.
The dynamics of a story of a woman in a woman's world which is in turn contained within a man's world is more difficult. This is a "double-world story", with two power hierarchies for her to make her way through. For the heroine of this story successful action, doing something that has the result you want, is extremely difficult. She is a long way from the traditional screen hero model. "Winter's Bone" is this.There are other kinds of characters though, characters who because of their gender, race or sexuality, or a mix of these things, don't have access to power. How do you write compulsive disempowered characters? And what if your story is not about them becoming powerful, but about what it is like to be powerless? Or finding ways to exercise power in new ways?
My workshop looks at these kinds of characters and stories too, as well as exploring, in detail, a story genre which specializes in exploring what power means for women, how it is found, and how it is expressed. A genre that has always generated amazing female characters and has been pushed to the side for too long. The Melodrama.The workshop is useful for anyone involved with writing for film and television. Presented for the first time in Denmark and Sweden in April, this workshop is coming to Ireland for the first time. It's a workshop for writers, directors, producers and story executives in both film and television. It uses female characters to explore all these issues, but the ideas are equally applicable in other areas like sexuality, gender fluidity, and race.It's open to anyone interested in these ideas. Full of clips, examples, provocation, and fun. Practical and useful to anyone working on screen stories: this is not about theory: it's about thinking hard and in new ways about diverse characters in order to make our screenwriting better. And as usual plenty of notes to take away with you from the workshop.
STEPHEN CLEARY: About
Stephen Cleary has been a film and television professional for over twenty years, working in Europe, North America and Australasia, with occasional forays into Asia. He has worked as a feature producer, television producer/director, educator and screenwriter. He is a former head of British Screen and an accomplished Producer, Director and Dramatist.
He has developed many feature films from inception to production, and many have won international festival prizes. In recent years he developed the Venice Golden Lion winning feature Sweet Country from conception to production, and was lead consultant on the Emmy Award winning feature documentary What Happened Miss Simone?
With the South Australian Film Corporation, Stephen co-conceived and ran Filmlab, a program designed to develop a base of local production companies. The initiative resulted in five low budget locally generated features, all of which secured domestic distribution. Two premiered at the Sundance film festival, one at the Berlin film festival, one at SXSW. Three of the features secured a US theatrical release. Filmlab filmmakers won best international director at Sundance 2014, the Crystal Bear at the Berlin Film Festival and other international awards.
From 2016 to 2017 he ran a TV drama series development initiative for Canal Plus Europe, developing series from conception to final bible and pilot episodes with selected writers and producers from across Europe. And from 2015 to 2017 he was senior consultant of the Danish Film Institute and Nordic Film Fund's Polar Bear initiative, developing TV drama series with TV professionals from Scandinavia.
Previously he ran Arista, Europe's largest private story development agency for 11 years, providing a range of short and long training courses in all aspects of film and TV writing and development. Arista was designated a "Centre of Excellence" by the European Commission.
Currently he is adjunct professor at the film school of the Victoria College of the Arts, Melbourne, lecturing and running seminars for students four weeks a year. He is a regular lecturer at the Danish Film School, the National Film School of the UK and AFTRS. All on aspects of story development. He is also a story consultant and occasional screenwriting.
And of course if you''re not aware... We have our networking event on the 27th,. This Sunday evening. (Don't worry It's a bank Holiday) which will have prizes galore and is fancy dress, Film Fancy Dress.
Loads of opportunties me network and win tickets, rental voucher, Goodie bags and more.
https://www.eventbrite.ie/e/73602740779
We will also be at the Cork Film Festival next month from Thurs 14th through weekend. Running our biggest ever networking event. Come say hello.
https://corkfilmfest.org/event/our-need-for-speed-post-first-take-networking-event/?fbclid=IwAR3Dt0HqFhpa7gsWwbKW-9V9e2tQ4OK27uKwpmB7TsID63fWMdBGUz5vQcU
#WeAreFni #YouAreFNI