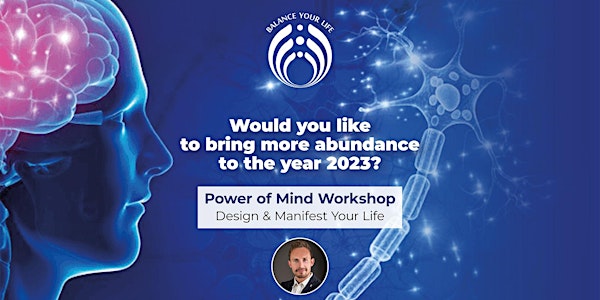 Power of Mind Workshop / Design & Manifest Your Life
Power of Mind Workshop will enable to you to step into your full power to manifesting your goals & dreams.
When and where
Location
Hilton Garden Inn Dublin Custom House 1 Custom House Quay D01 V9X5 Dublin 1 Ireland
Refund Policy
Contact the organiser to request a refund.
About this event
Our life is built in line with certain laws. When we apply certain techniques in aspects of body, mind and energy to our daily lives, we can create the life we want in aspects: health, happiness, relationships, career, finances, sports performance, etc.
The key is to create a balance in our body, mind and energy.
This workshop brings you a combination of knowledge and techniques from the latest research in self-development, neuroscience, quantum physics, biochemistry & ancient wisdom to create desired states of your life.
As part of this workshop you will learn about the different ways we can work with our thoughts, how to increase overall function of the brain and how to create an optimal state of mind to achieve our goals and dreams.
This will be followed by a powerful heart activation so that you can realise your full potential and call in your desires at an enhanced rate. It is combination of heart- brain coherence and Encient Egyptian technique which will reconnect you with your purpose & inner power to manifest effective way.
Power of Mind Workshop gives you the tools to design a life of your desires and introduce you to powerful techniques of manifestation, so you can make your goals & dreams a reality.
This workshop is designed to:
- Empower you to make lasting, positive changes to your life.
- Achieve your goals in the most efficient way.
- Improve concentration and brain activity.
- Teach you about the laws of quantum physics and their application.
- Regain control over your nervous system and internal biochemistry.
- Reprogram the brain and activate the power of the subconscious.
- Bring balance to your brain hemispheres
- Improve your physical, mental, emotional and spiritual health.
- Strengthen self-confidence.
- Increase emotional intelligence.
- Connecting you to the body
- Let go of self-destructive programs.
- Deepen your intuition and enhance your decision making abilities.
- Overcome procrastination.
- Breathing techniques, and strategies to help ease stress, anxiety and depression.
- How to work with your electromagnetic field.
You will have the opportunity to enjoy and connect with like minded individuals, all making positive changes to their lives and creating new realities. The exercises throughout the day will give you a direct flavour of the power of these techniques when applied correctly.
More about Tomas
His journey started when he received teachings about meditation, mindfulness and energy thanks to his amazing parents, at merely 5 years of age.
Tomáš is the founder of 3 companies in Ireland that help not only people but also animals & agriculture. As a transformational coach and founder of Balance Your Life, he helps people achieve their dreams in all aspects of life. Tomáš has inspired thousands of people, including a wide variety of consultants, executives and CEOs, to achieve their goals and live fulfilling lives. Tomáš is also a qualified physiotherapist trained in neuroscience and cognitive therapies.
Balance clinic and team are based in Santry, Dublin. By combining Western and Eastern medicine in his practice, he also helps people with stressful and unresolved health problems. His research includes ancient wisdom from Ireland, Egypt, Greece, China and Japan. The overall work is based on the laws of psychology, neuroscience, neuroplasticity, quantum physics, meditation, nutrition, physical exercise and many others.
Qualifications: Transformational coaching, Physical Therapy, Sports Psychology, Nutritional Coach, Health Coach, Personal Trainer, Dry Needling, Ergonomics, Biochemistry, Seik-hem
Awards: 2016 Top Achiever of the Year : Pre-University Physiotherapy Colaiste Ide 2019 Student Clinic Excellence for the best results: Institute of Physical Therapy
Instagram: @balanceyrlife
Fb: BalanceyourL
Web: www.balance-your-life.ie
Limited places available so be sure to book in time.
Registration is starting from 9:45am.
Please arrive on time to get most out of your day.
Lunch break between 1pm-2pm.
Short break of around 20 minutes where you will be served tea, coffee, water and snacks.
Payment:
Investment: €88 (places are available)
Parking is free in this area on Sunday. Just behind the corner there is Commons street where you can park. Or just next to the hotel is a car park: Park Rite IFCS for €19 for a full day.
If you have any further questions don't hesitate to contact Tomas on info@balance-your-life.ie or 087 403 4422.
Looking forward to seeing you there
Web: www.balance-your-life.ie
Testimonials:
Peter:
Balance Your Life workshop allowed me to step into knowledge that shifted my life towards more conscious living so I could easier find my passion and my talents. I was not even aware before the workshop of how powerful the body and mind is so it really uplifted me and my living is definitely with less fears then before. Tomas acknowledged me about certain most important things which were explained well and I gradually applied it which change my whole life style and thus changed my whole perception about the world.
Antonella:
"I attended Awakening Power workshop at this year's electric picnic and did this choice out of many interesting workshops on offer as I felt a strong pull towards it after a fascinating presentation by Thomas. I found the workshop hypnotic, powerful and somehow transcendental. During the workshop I felt safe and enjoyed every step I took throughout the journey, it felt like floating on a river. A rare experience. Highly recommend it.
Niamh said:
I attended the Balance Your Life workshop and got so much out of it. I learned a lot of new ways of thinking and exercises and remembered other important tools that I had forgotten also. It was a great day filled with interesting facts and fabulous energy. Tomas is a great teacher who 'walks the walk'. He is very kind and makes sure everyone feels part of the group. I would recommend his teachings to everyone, even if you think you know it all, he reminds you about what you have forgotten! I learned more and felt full of enthusiasm afterwards.
Miriam:
I booked my appointment because of my mental/ psychical issues and being stuck in my life. After the first consultation we discovered certain limitations that were stoping me to move my life forward. I had few more sessions in which each of them I received certain homework. After using all these tools and techniques my life started to be lighter and brighter. I felt less fear, less stress, my brain was producing less limitations and this way I could feel like different person who gained lot of confidence and clarity into my life. Big thanks to Tomas and very happy that I booked an appointment with him. Highly recommending to everyone.
Eunan:
Tomas, through his innate understanding, his marvellous learning, his brilliant skill, and his embodiment of what he preaches/ practises, brings the best recalibration of, and balance to the mind, body, and spirit in his Balance of Life Therapy.
My heartfelt gratitude must go to Tomas for helping me transform my life immensely, by his great work. I wish you continued success Tomas with your practice & your inspiring work. Gratitude
Luissa:
Through his programme Tomas showed me the power we have inside and the power of loving yourself and be compassionate with yourself and others. He explained, with scientific references and in a simple and effective way, how important are your thoughts and how much they can create your own world. All this knowledges and support made a big impact on my life and my capacity to clearly see my goals and don't be afraid to persevere on them believing that each one has a power within that has to be shared. Since I am a singer it hugely helped to perform even better.
Michaela:
I've attended a workshop in beautiful place Hill of Tara which is perfect spot for making the event even more enjoyable. It was great and fun experience and I can't imagine better person then Tomas who would teach me what I'm capable of. The last step for me is to apply the knowledge to my everyday life. Highly recommend
Ann Marie:
I had a lovely experience, I learnt loads about myself and can use each tool in my daily life. Tomas has got a good grasp of what he wants in life and has put them all into a very informative workshop. I'm looking forward to seeing how it all comes into play for myself in the future Thank You.