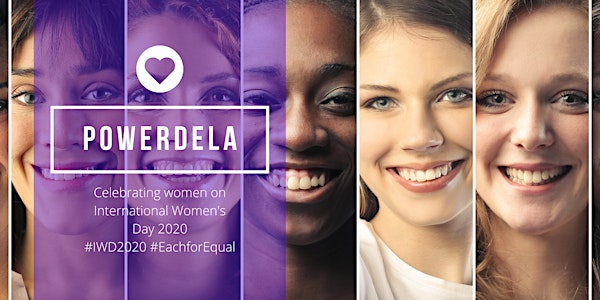 Powerdela - Here's to strong women!
Come celebrate International Women's Day with us at Powerdela! "May we know them, may we be them, may we raise them!"
By Brazilian Professional Network Ireland
When and where
Date and time
Sun, 8 Mar 2020 15:00 - 21:00 GMT
Location
The Loft @ 4 Dame Lane 4 Dame Lane D02 YD79 Dublin 2 Ireland
About this event
Powerdela is an inspiring and thought-provoking event to motivate others, make great connections, celebrate incredible women and the challenges they have overcome.
We can truly make a positive difference for women everywhere and together we can actively choose to challenge stereotypes, fight bias, broaden perceptions, improve situations and celebrate women's achievements.
You deserve to spend this great time with us!
There will be a networking reception, finger food, music and, inspiring speakers talking about relationships, career, spirituality, wellness, sexuality and much more.
Speakers:
Karine Keogh - A toast to PMS! A talk about career, maternity and relationships
After planting a tree, getting married and having a child, one day (during her PMS) when she was almost 30 years old, Karine decided that it was time to embarque in a new adventure and move abroad. After many years living in Dublin, she now has a half Brazilian, half Irish family, writes at her blog while works as an executive assistant, she is a mum of 4 and always has a plan B.
Milena Higa (MH Coaching) - Salary and benefits package negotiation
Milena has an overall 12 years of experience in the HR Field, 8 years working in Recruitment. Certified Life Coach, Leader Coach and Behavioral Analyst. Currently working in the Talent Team for a recruitment agency in Dublin while helping professionals as a Career Consultant and CV writer.
Yellow Door Holistic – The re-connection of the modern woman with her own spirituality
Yellow Door promotes empowerment through self-development. Yellow Door helps people to figure out the essence of their soul by encouraging self-co-creation of conscious change through holistic techniques. (Reiki, Yoga, Access Bars, Energetic Face Lifting, Astrology, Numerology, Thetahealing) 
Julia Masotti – How to prepare for a healthy week and break bad eating habits
Julia developed a passion for nutrition and healthy lifestyle back when she started playing tennis. After moving to Dublin, Ireland in 2014 she started to help others achieve their goals through a more active life and better eating habits. Change your lifestyle and you dont ever need to diet again.
Tara Le Mains - A celebration of life, love and source energy
Tara is a trained Tantrika/Tantra Practitioner, Educator and Holistic Therapist who truly believes in the philosophy behind this ancient healing art and only practice Tantra in it's purest form to awaken people's senses to bliss and to heal. 
Áine Mulloy - The power of Community
Áine is a motivated and passionate strategist, project manager and marketeer. Innovation Designer at Accenture, co-founder @ GirlCrew, TEDx speaker and being awarded Forbes Top 100 EU Female Founders to Follow she is keen to make an impact, empower, and work at the intersection of community and information.
Women are powerful, beautiful, strong and deserve to be celebrated!
Tickets include a glass of prosecco (or non-alcoholic alternative) on arrival and delicious food bites.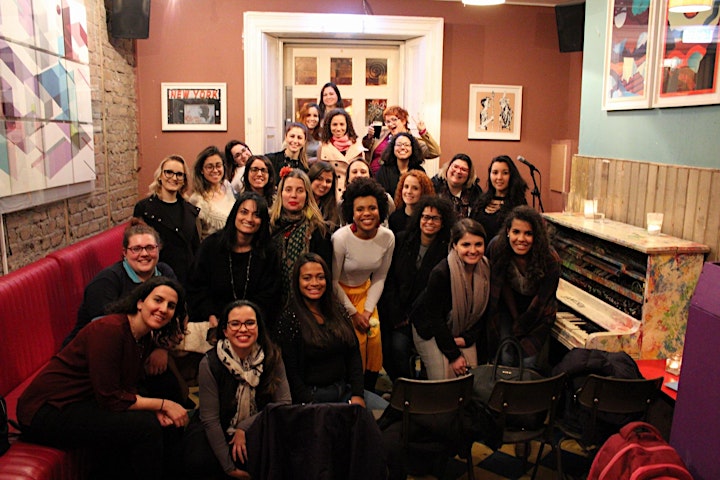 About the organiser
The Brazilian Professional Network in Ireland (BPNI) aims to bring together the Brazilian professional community within and outside Ireland, uniting and strengthening relationships connecting ambitious Brazilian professionals.
​
BPNI invite professionals from all backgrounds to actively connect, engage and share experiences through forums and network events that empower and motivate members of the community, especially in Dublin where a large part of the community is concentrated.