Description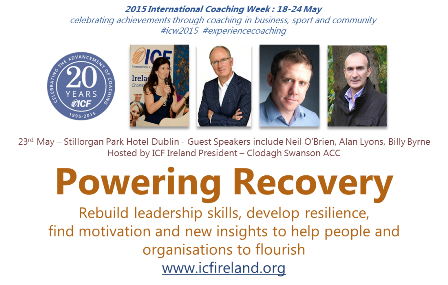 International Coaching Week 2015 – celebrating achievement in Ireland through coaching in business sport and community.
Refocus on personal and professional success - rebuild leadership skills, develop resilience, find motivation and new insights.
8:30
Tea/coffee / networking
9:15
ICF Ireland President's Welcome: Clodagh Swanson – Associate Certified Coach (ACC)
Welcome and introduction to Powering Recovery theme
09:30
Enhancing Resilience : Alan Lyons, Author & Psychologist
Explore a compelling framework which propels positive emotions that drive high performance!
10:30
Changing the organisation through Coaching - Niall Gogarty (ACC) – HR & Change Manager, Health Services Executive
Niall will speak about the impact coaching has had and is having on their organisation and on the lives of people around Ireland.
11:30
Break
11:45
Co Coaching / Coaching Demos
12:45
Lunch
14:00
Habit Intelligence and the Joy of Discipline: Neil O'Brien – Time to Fly
Neil will show how to create new and lasting habits without requiring any willpower or motivation. He will discuss current client success stories including the '10 Second Walk". He will also expose the complete con of the stress management industry!
15:00
Emotional Intelligence – The key to Authentic Leadership: Billy Byrne – Executive Coach
The term Authentic Leadership was first coined back in 2003. Emotional Intelligence made its debut some twenty earlier. Since (or as a result of) the economic crisis these leadership topics have become synonymous with a move away from the leadership behaviours that, according to many commentators, contributed to the economic downturn.
In this interactive session, Billy looks at Authentic Leadership from an Emotional Intelligence perspective and explores how Emotional Intelligence can become the foundation for developing more authentic leaders.
16:00
Wrap up & Q&A - Board members / panel
16:15
Close
Speaker Bios
Alan Lyons – Enhancing Resilience (KinchLyons – kinchlyons.ie)
Alan Lyons is a Business Psychologist, leadership coach, author and keynote speaker who coaches leaders and teams to enable high performance. He is passionate about helping people to perform at their optimal level through leveraging emotional intelligence, clarifying purpose, disciplined execution and enhancing mental toughness.
Niall Gogarty, Associate Certified Coach & Change Manager, HR Department, HSE
Neil O'Brien – Time to Fly - timetofly.ie
Neil O'Brien worked for a bank for 24 years and then decided that it was time for a change. In 1998 he founded Time To Fly! And has since become Ireland's number one corporate conference speaker on the topic of Mental Fitness. Neil is also a published author in this area and his debut book Time To Fly! Some of his regular corporate clients for his speaking and coaching are Accenture, AIB Bank, Bank of Ireland, Citi, Coca Cola, Deloitte, Energia, FBD, HSE, INTO, KPMG, PWC, Rabobank, Dept of The Taoiseach, Dept of Education.
Neil also coaches elite and professional sports people on their mental fitness and has worked with Ryder Cup, Walker Cup and Curtis Cup golfers, elite athletes, Davis Cup tennis players, the GAA, and the FAI.
Billy Byrne – Executive Coach, Mentor & Facilitator
Billy Byrne is an experienced executive coach and a member of the KinchLyons executive coaching panel. He is also an associate faculty member of IMI. Billy's has extensive experience of working with senior leaders as coach, mentor and facilitator. His professional interests lie in authentic leadership and meaning-making in organisations. Billy is also an experienced Emotional Intelligence practitioner, using emotional intelligence in his coaching practice and delivers EQ-i 2.0 and EQ 360 certification programmes.
In addition to a BE in Electrical Engineering, he holds an MSc. (Mgmt) in Organisational Behaviour from Trinity College, Dublin and is a Chartered Fellow of CIPD. As part of his studies towards an MA in existential coaching he is currently completing research into "The experience of women in senior management positions in large organisations".
He is an avid runner and has completed seven marathons.
Organiser of Powering Recovery