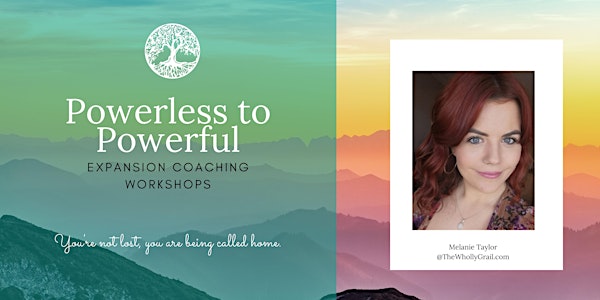 Powerless to Powerful Mindset Workshop
A workshop to redefine and reclaim the fears, beliefs, stories and mindsets that disempower and restrict your growth & expansion.
Refund Policy
Contact the organiser to request a refund.
About this event
Join us Sunday March 28tht at 11am for our second Expansion workshop of the year.
This is part of a series of workshops that will run throughout 2021, each reconnecting you with your whole self. Each workshop will empower and enable you to reclaim or realign with the aspects of yourself you may have lost, forgotten, ignored or hidden for whatever reasons up to now. These workshops are an invitation to shift from contraction to expansion, confinement to liberation and powerlessness to empowerment.
"Change the way you see things and the things you see will change" – Wayne Dyer
Our beliefs and mindset are integral to how we interpret, communicate and respond to the world around us but more often than not we are unaware of our deep rooted beliefs and stories. These stories and beliefs are often passed down and imprinted upon us by our family, peers, society and culture, often spanning back many generations. They dictate and determine our actions and choices which may not be in alignment with the life we want to live and the path we know we are here to walk.
If you are unaware of the belief and behaviour patterns, the stories and thoughts that are running within you then they are most likely running you (and your life). They are more than likely holding you back and keeping you stuck in fear, pain, limitation or separation. Only you have the power to shift and transform those cycles and patterns, if you are ready and willing.
Awareness and acknowledgement are the first steps, acceptance follows and then we move into reclaiming and redefining these patterns. In doing so we can shift our mindset and life from powerless to powerful and limited to abundant.
Join us as we address all of this and more!
In this workshop you will;
• Understand the neuroscience behind your fears, beliefs, behaviours and mindset.
• Dive deep into the masks, filters, perceptions and stories that disempower and restrict your growth, healing & expansion.
• Identify the destructive and debilitating stories, inner voices, thoughts and words and their impact on your mind, body, heart & soul.
• Learn how to reclaim, reframe and redefine those beliefs and stories.
• Daily empowerment practices to flip the script and continue transforming your mindset, beliefs and life beyond this workshop .