Learn how to create infographics in PowerPoint so that you can wow your audience and get the results you want from your slides!
About this event
Do you want to create infographics but don't know where to start?
Are you fed up with bullet points?
Would you like to banish death by PowerPoint and wow your audience?
Then this Master Class is for you!
About the course
You'll learn everything you need to know to create professional infographics AND get a free editable download of a PowerPoint file including the two infographics in the image below.
In the two hour session, we will cover the following;
Story - we'll start by considering your data and how best to display it for maximum impact.
Design - you'll learn the fundamental basics to arrange shapes to create infographics.
Colour - you'll understand the importance of colour and how to choose additional colours that complement each other and apply this in themes. You'll learn how to quickly change the colours in your infographic when it's complete and even how to add a theme to other Microsoft applications.
Shapes - you'll learn to work with shapes, including creating irregular shapes and quickly reproducing shapes with existing formatting.
Icons - you'll learn how to use icons, change the colours and edit the icons. You'll discover where to find additional icons if you cannot find the right one in PowerPoint.
Format - you'll learn how to use special effects with both shapes and text. You'll learn time-saving tips and tricks to make your infographic looks professional.
A recording of the Master Class will be available for viewing after the session.
You'll get a PDF cheat sheet sent to you after the event.
About the instructor
Fiona Walsh has worked in a corporate environment for over 20 years, in both the UK and Ireland, working for a range of multinationals (BP, Exxon Mobil, The Lear Corporation, Oriflame Cosmetics, Zenith Technologies, Janssen Sciences Ireland and Cognizant).
Fiona started her IT training career when she implemented an ERP system for an R&D department in 2007. After designing a training program, she felt it could be improved and embarked on an IT Teacher training course. She then became certified as a Microsoft Master Instructor and began training in Microsoft Office, including PowerPoint.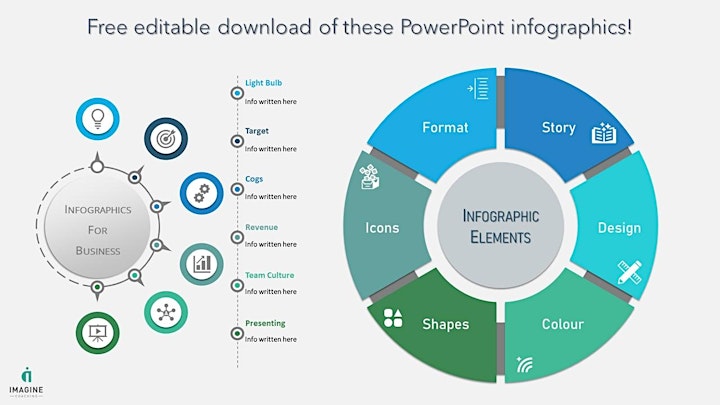 Organiser of PowerPoint Course - Infographics Master Class