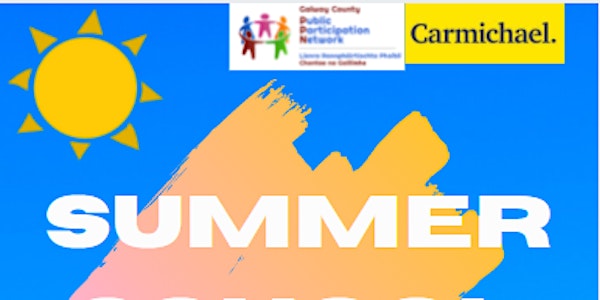 PPN Summer School
Trainings for Community Groups on GDPR, Charities Governance Code and Board Roles and Responsibilities
About this event
The Galway County PPN are delighted to offer you their PPN Summer School training package which comprises: 3 online training sessions offered by experts form the Carmichael Centre, Dublin and 3 eLearning modules to completed individually at your own pace.
The details!
Session 1: General Data Protection Regulation (20 July @7-9pm) with Liam Lynch via Zoom
Target Audience: Anyone needing a better understanding of responsibilities under GDPR.
Outline: This session will focus on practical skills to follow through on obligations of accountability under GDPR. Participants will be shown how to draft a Data Protection Policy for their organisation and create procedures to support their compliance with the legislation. There will also be opportunities to submit questions.
Session 2: The Charities Governance Code Explained (22 July @7-9pm) with Andrew Madden via Zoom
Target Audience: Trustees, Chairs, CEOs, and those responsible for governance in their Charity.
Outcomes:
Understand the six principles of governance which all charities should apply
Understand how to meet the core standards for each of the six principles
Understand the additional standards that reflect best practice for more complex charities
Understand how to report on compliance to the Charities Regulator.
Session 3: Board Roles & Responsibilities (29 July @6-9pm) with Diarmaid Ó Corrbuí via Zoom
Target Audience: Are you a Board member of a voluntary or community group? Are you unsure of what is expected of you? Do you want to ensure your organisation is governed in accordance with good practice?
Outcomes:
By the end of the course participants will be able to:
Describe the purpose of their board and its responsibilities
Identify the different roles of board members
Understand the legal duties under the Companies Act 2014 and the Charities Act 2009
Appreciate the different roles of the board and staff and how to ensure an effective working relationship is in place
Understand the importance and benefit of regular board evaluation
Have an overview of the Charities Governance Code
eLEARNING modules:
These modules completed online and individually. Please email Mary to receive your (time limited) licence to take the course in your own time: mmullen@galwaycoco.ie
(Upon successfully completing each course, participants will receive a Certificate of Completion)
1) The Role of the Chairperson:
(30 day licence)
Target Audience: Chairpersons of non-profit organisations or anyone thinking of becoming a Chairperson.
Outline: The role of board Chairperson is an honorary role. There is no legal requirement under the Charities Act or the Companies Act for a board or committee to appoint a board Chairperson. However, Boards should be mindful of obligations contained in their organisation's constitution and obligations under any other legislation or regulation their organisation may be subject to. Appointing a board Chairperson makes good, practical sense if the work of a non-profit board is to be progressed satisfactorily. Upon appointment, a Chairperson takes on particular duties and responsibilities appropriate to the role. In this course, we review the role of board Chairperson.
2) The Role of the Company Secretary
(60 day licence)
Target Audience: Anyone wanting a good understanding of the knowledge and skills required to fulfill both the legal duties associated with the role and the administrative duties assigned to the role by the Board.
Outline: Every company limited by guarantee must appoint a Company Secretary. In a company limited by guarantee (the legal structure of choice for most non-profits in Ireland) this role is frequently filled by a board director or staff member. It is the responsibility of a board of directors to ensure that the person acting as its Company Secretary, has the necessary knowledge and skills to fulfil both the legal duties associated with the role and the administrative duties assigned to the role by the Board.
3) The Companies Act: Implications for Companies Limited by Guarantee
(45 day licence)
Target Audience: This eLearning course is ideally suited to anyone holding the position of board director of a Company Limited by Guarantee, or by people filling the role of Company Secretary. It is also a valuable learning resource for staff members who support board governance.
Outline: This short interactive eLearning course explores the implications of The Companies Act 2014 for Companies Limited by Guarantee (CLG). The practical and easy-to-follow structure of the course is designed to get directors and company secretaries quickly up to speed with what they need to know to comply with the Act.
It is worth noting that all directors appointed to boards post June 1st, 2015 should be aware of their legal duties and undertake to comply with requirements set out in The Companies Act 2014.
Topics covered during the course include:
Role of Company Members
Legal Duties of Company Directors
Company Directors – key requirements
Role of Company Secretaries
Legal duties of Company Secretaries
Typical administrative duties of Company Secretaries
Annual Return Dates
Implications of The Companies Act 2014 for future registrations
Implications of the Act for existing companies
Declaration of Understanding
Each person taking this eLearning course can access and download a PDF copy of the BoardPASS Board Governance Handbook for Irish Non-Profits. A great resource for any board or committee member!