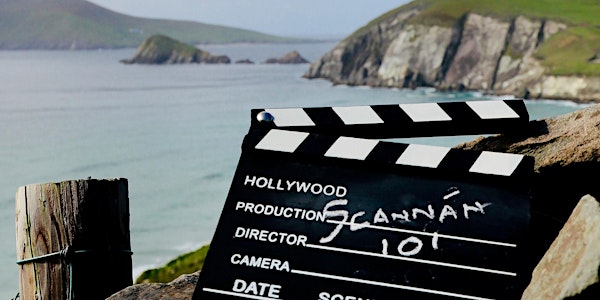 Principles of Film / Prionsabail Scannáin
Intro to Theory and Practice / Buntreoir ar Theoiric agus Cleachtadh
When and where
Location
Dingle Hub Cooleen Business Park Dingle Ireland
Refund Policy
Refunds up to 7 days before event
About this event
This course provides an introduction to film studies and filmmaking for adults interested in expanding their knowledge of film, both in practice and in discourse/conversation. It will be held biweekly at the Dingle Hub of Creativity and Innovation over the course of 12 weeks with a Christmas break. The course will be goal-orientated and hands-on in approach, adopting a philosophy of 'learning-by-doing'. As such, it will be suitable to film buffs looking for a structured approach to analysing film on a deeper level, and for those interested in learning the basics of film production. It is open to all adults over the age of 18, and the only prerequisite is that participants have a passion for film.
Sessions will meet 6:30-9:30 PM Mondays and Thursdays, beginning Thursday 31st October.
The course is particularly well-suited to people pursuant of careers in film/media production who want to expand their understanding of film in cultural context; also, people pursuant of careers in film/media journalism who want to build their knowledge of filmmaking and film analysis; and for people interested in pursuing third level education in Film Studies, which is a fast-growing discipline at Irish universities, and in which places for mature students are increasingly competitive.
The subjective nature of 'quality' in filmmaking will be discussed, with the goal that individual students will be able to identify, analyse and discuss the key aesthetic and narrative components of individual films. Crucially, they will also be able to apply these principles through the completion of various practical filmmaking tasks. Over the first eight weeks, this course will ask participants to apply their knowledge of film theory – developed through the guided discussion of weekly film screenings – via the completion of small filmmaking projects, which will incorporate the workshop's unique location in the community and landscape of Dingle.As part of these weekly workshops, participants will be introduced to the use of digital filmmaking equipment, including DSLR cameras, microphones and Zoom recorders. The last four weeks will be devoted to participants' production of a short film, which will be screened at a showcase event in February 2020.
The course will be led by lecturer in film Ciara Barrett, alongside workshops with local filmmaker Mark McLoughlin.
Is buntreoir le staidéar scannán agus le scannánaíocht an cúrsa seo do dhaoine fásta gur spéis leo cur lena dtuiscint ar scannán, ó thaobh cúrsaí praiticiúla agus ó thaobh comhrá/plé araon. Beidh sé ar siúl dhá uair sa tseachtain thar thréimhse 12 seachtain ag Mol Cruthaitheachta agus Nuálaíochta Chorca Dhuibhne, le briseadh um Nollaig. Beidh cur chuige an chúrsa praiticiúil agus sprioc-dhírithe, le rannpháiritithe ag foghlaim trí obair a dhéanamh. Sa mhéid seo, beidh sé oiriúnach do dhaoine le dúil i scannáin atá ag lorg cur chuige struchtúrtha chun anailís a dhéanamh ar scannáin ag leibhéal níos doimhne, agus dóibhsean gur suim leo bunscileanna léirithe scannán a fhoghlaim.
Buailfidh an rang le 6:30-9:30 Dé Luain agus Déardaoin, ag tosú Déardaoin 31ú Deireadh Fómhair.
Tá sé oscailte do dhaoine fásta ós cionn 18 bliain d'aois agus an t-aon riachtanas ná go mbeidh dúil ag na rannpháirtithe i scannán. Tá an cúrsa oiriúnach go háirithe do dhaoine ag tabhairt faoi ghairm léirithe scannán/meán cumarsáide go bhfuil fonn orthu cur lena dtuiscint ar scannán i gcomhthéacs cultúrtha; do dhaoine ag obair i réimse an scannáin/iriseoireacht meáin gur spéis leo cur lena n-eolas faoin scannánaíocht agus anailís scannáin; agus do dhaoine gur spéis leo tabhairt faoi oideachas triú leibhéal i Staidéar Scannán, disciplín go bhfuil borradh faoi in Ollscoileanna na hÉireann, mar a bhfuil géarchomórtas ag fás chun áit a bhaint amach mar mhac léinn aibí.
Déanfar plé ar cad is 'ardchaighdeán' ann sa scannánaíocht, leis an sprioc go mbeidh mic léinn aonar in ann príomh-aeistéitic agus príomh-ghnéithe scannán ar bith a aithint, a scagadh, is a phlé. Tá sé fíorthábhachtach go mbeidh siad in ann na prionsabail seo a chur i bhfeidhm trí thascanna éagsúla a bhaineann leis an scannánaíocht phraiticiúil a dheanamh.
I rith an chéad ocht seachtain beidh an cúrsa seo ag iarraidh ar rannpháirtithe a n-eolas faoin teoric scannáin a úsáid (déanfar forbairt ar seo trí plé treoraithe ar léirithe scannáin seachtainiúla) agus roinnt tograí beaga scannánaíochta á críochnú acu, obair go mbeidh ionad ar leith na ceardlainne – suite i bpobal agus taobh tíre Daingean Uí Chúis – ina chuid de.
Mar chuid de na ceardlanna seachtainiúla seo, geobhaidh rannpháirtithe taithí ar úsáid trealamh digiteach scannánaíochta; ceamaraí DSLR, micreafóin, agus gléasanna taifid Zoom san áireamh. Sa cheithre sheachtain deiridh díreofar ar ghearrscannán á dhéanamh ag na rannpháirtithe, scannán a léireofar mar imeacht ar leith Mí Feabhra 2020.
Beidh an léachtóir ar chúrsaí scannáin, Ciara Barrett, i gceannas ar an gcúrsa, taobh le ceardlanna ó scannánóir Mark McLoughlin.