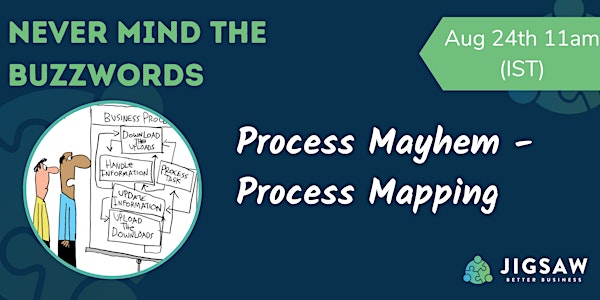 Process Mayhem to Process Mining & Mapping
In this session, Lean Master Black Belts Kasia Oelofse, Eamonn McKenna, & Stuart Nelson will share tools & tips for process mapping!
About this event
Many people say to us, "we've no processes in our business", but whether it's written down or not, good, bad, & varying processes do exist. The first step towards improvement is to understand what is actually happening.
To do this we use process mapping sessions and tools, to "mine" and get a grasp on the reality and then bring order and efficiency.
Process mapping is a technique used to visually map out workflows and processes. It involves creating a process map, often referred to as a flowchart, process flowchart, or workflow diagram. The purpose of process mapping is to communicate how a process works in a concise and straightforward way.
In this session we will introduce the key steps involved in Mining and Mapping a process, facilitating the process, and creating an ideal or future state. We will also hear from Master Lean Practitioners, Kasia Oelofese and Eamonn McKenna on the practicalities of running a mapping session, the pitfalls, and advanced tools for making the new visual process look pretty!
As with all Buzzwords sessions, we will have templates to help you get started on, or improve your process mapping.
Speakers
Kasia is a Master Black Belt Lean, Six Sigma continuous improvement professional with over 18 years of experience in multi-functional shared services and supply chain global organisations. Prior to joining Jigsaw Better Business as a Lean Coach in 2020, Kasia held senior Lean / CI roles in Coca-Cola & Hertz.
Eamonn is a Lean Six Sigma Learning & Development professional with vast experience in leadership, training design, problem solving and facilitation skills delivering innovative solutions to achieve business objectives. Prior to joining Jigsaw Better Business as a Lean Coach in 2020, Eamonn held senior Lean / L& D roles in MSD.
Never Mind the Buzzwords
"Never Mind the Buzzwords" goes beyond the jargon so you can come away from each session with tangible tools, tips, and strategies. It's a great space to get food for thought and build your network.
To stay in the loop on similar future events, you can opt-in to our mailing list at the checkout.
You can also join the group on LinkedIn, where you'll find upcoming events, resources and research, and recordings of previous sessions.