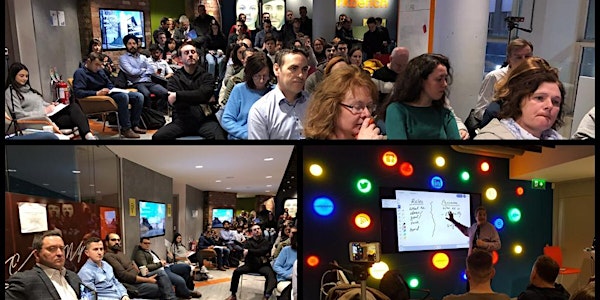 Product-Portfolio Management: Developing Product Road maps.
Date and time
Thu, 27 Jun 2019 10:00 - 17:00 IST
Location
The Fitzwilliam Hotel Dublin 127/128 Saint Stephen's Green Dublin 2 Ireland
Description
If you are involved in developing products or in product management either for internal customers or external cutomers then this course is a must for you.
It will help you to
improve the speed in which you develop products,

gain buy-in from team members and stakeholders

reduce the pain and stress involved in making a roadmap.

maximise the lifetime value of your product portfolio

build a high performance "team"
---
After our very popular and successful Developing Product Roadmaps event and due to popular demand, we have organised a full day course on Developing Product Roadmaps.
We have listened to your feedback and this is reflected in the
smaller class size,

duration,

venue, and

price
This at a special introductory price. Places are limited to reflect the smaller class size.
Our courses are about thought leadership and bringing leading edge techniques that have been proven to work in the field and based on our practical expereince of developing successful products and services.
If you want to be the best and care about getting the best outcome, then this is for you.
What people say
" Thanks so much for the session last Wednesday. It was really enjoyable and informative. I was able to take some great notes. As an operationally minded person, I really appreciate the reality over methodology approach you took. There is a really strong desire for this kind of event in Dublin. I wish you lots of success with this in the future and hope to see you at the next one. Thanks again, Rachael "


---
Is this for you?
This course is aimed at anyone involved in the product lifecycle or wanting to pursue a career in product development.
your product may be an internal product or service or a product for external customers, it may be a software, SaaS, Hardware, Content/Media and it could be a product for the consumer or BB/Enterprise Market.
The target audience include:
Teams working in (NPD) New Product Development or launching a new product

Product Teams evolving existing product lines within an established company.

Product teams - Product Managers/Owners, Marketing & Sales,

UX/UI, Developers, Designers, Programme Managers, Scrum Managers, Development Managers.

The CEO, entrepreneurs and leadership team of a startup,
Our approach is to give you a Swiss Army Knife, so you have the right tool(s) for the job. These approaches are complementary to whatever development approach you take be it Lean, Agile, Design Thinking/Service Desig, Design Sprints Waterfall etc.
We will also introduce you to broad range of tools so you have the best technique appropriate to your project.
---
Outcomes not Output.
It takes a vision lead approach to Product Development
For many product managers filling a product roadmap template becomes a never-ending chore and is the bane of their life.
This is not about a form to be filled but a process where the real change happens in the mind of the team.
This approach allows you to
build products that evolve, are scalable, repeatable, reusable

prioritise requirements,

deliver products that maximise revenue/returns

gain organisational buy-in

develop product families, evolve product lines in a cost effective/low risk manner

---
What is a product?
It is "the thing that does the thing"
Even if you have the insights of Steve Jobs in "knowing what the customer wants" developing products is a team process. It's not about scoring a single goal but winning the game.
It's the Journey not the Destination
Think of it as building the "team" that builds the product that does the thing….
A good product roadmap is one of the most important and influential tool/map an organization can develop, publish, and continuously update. This can steer an entire organization when it comes to delivering on company strategy.
This practical course shows you how to create an effective product roadmap and demonstrates how to use the roadmap to align stakeholders, prioritize ideas and requests.
This approach can be used for any type of "product" or service from software, hardware, a physical product, media/content, SaaS, and also internal "products and services" within an organisation.
About the tutor
Manoj Chawla MA ACMA FRSA has developed major products and services both for internal and external customers at organisations such as Price Waterhouse, BT, Accenture where he held senior and "C" level roles such as Chief Information Architect, GM Business Transformation and Innovation, VP Internet Strategy, VP Service Development, VP Service Evolution etc
---
Please take a few moments to read all the following information carefully:
1. Places are limited. There are no refunds but are transferable for a small charge

2. We recommend you arrive and take your seat at least 10 minutes in advance of the advertised start time. If you haven't checked in by then we may offer your place to those waiting for returns.

3. We will have your name on the door but we suggest you keep this confirmation for your records.

4. We cannot guarantee admission to latecomers,so please make sure you arrive promptly to avoid disappointment.

5. We film, photograph and (occasionally) live-stream most of our events. By attending this event you accept that you may appear in our photo/video as a member of the audience and we may use them for publicity.
---
About the organiser
Easypeasy is a Design, Innovation & Change Management Consultancy and Training company
We run courses and workshops on on Designing for Persuasion, Service Design, Innovation Product Management.
Many of our courses and workshops are based on the hands on work we do with clients in transforming their business.
We help companies to
develop or evolve products and services,
help startups build businesses
established companies to build scaleable repeatable businesses that can scale and maximise value.
For more information on Easypeasy Limited please look at our products and services website.
www.jumpstart.design (Consultancy)
www.stepbystep.guru (Training)
We also sponsor (usually free) events for the 
Dublin Designer Thinkers, Service/Experience Designers & Innovators among others