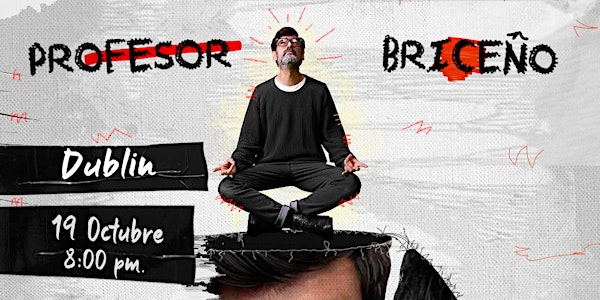 Profesor Briceño - Descocido - Stand Up
El profesor Briceño lleva al público a pensar, a través del humor. Por primera vez en Dublin.
When and where
Location
Laughter Lounge 8 Eden Quay D01 WY93 Dublin 1 Ireland
Refund Policy
Contact the organizer to request a refund.
About this event
Briceño De Visita es el nuevo espectáculo del Profesor Briceño, quien luego de una pausa en escenarios llega cargado de material inédito desarrollado durante la pandemia, y que desde su inicio a tenido taquillas agotadas en casi todas las ciudades, donde ha recibido excelente crítica y comentarios por parte del público de toda Venezuela.
El reconocido humorista José Rafael Briceño inició en abril un tour nacional que lleva por nombre: BRICEÑO DE VISITA, en el exterior la gira se transformará en Briceño DESCOSIDO. A la fecha ya se ha presentado en más de una decena de ciudades con sold out en casi todas, dejando funciones con taquillas agotadas, acompañada de excelentes comentarios por parte del público.
Con su inteligente humor, el conocido Profesor Briceño continua sus presentaciones donde lleva al público por situaciones cotidianas con las que todos podrán sentirse identificados o identificar al de al lado para no sentirse aludidos, en un espectáculo donde la risa, la ironía y la perspicacia harán que el público disfrute de 80 minutos llenos de carcajadas y hasta de alguna reflexión por accidente.
Durante su presentación, el profesor Briceño lleva al público a pensar, a través del humor, en aquellas palabras que nos describen a los venezolanos mejor de lo que quisiéramos; lo vivido en pareja durante el confinamiento, el estar con los hijos las 24 horas del día en un espacio limitado, la terapia por zoom, las redes sociales como religión.
Además, con su particular manera de desmenuzar la actualidad en clave de humor, el profesor hace que el espectador vea el ángulo absurdo de aquello que da por sentado, una forma distinta de apreciar las situaciones más cotidianas y que el público disfruta a mandíbula batiente.
Este reconocido Humorista continúa la gira internacional bajo la mirada irónica y astuta que lo caracterizan.