RCSI Medical Professionalism - Professionalism in a Pandemic: Lessons from Covid-19.
About this Event
RCSI Medical Professionalism, supported by the Bon Secours Health System (Lead Sponsor) and Medical Protection Society (Picture Competition Session Sponsor) are delighted to announce our first virtual conference –
Professionalism in a Pandemic: Lessons from Covid-19.
Join us on the 23rd April 2021 for a half day of exciting talks & presentations.
The event focuses on Professionalism in Education and Professionalism in Clinical Practice, and promises to be a great day of exciting talks and presentations from speakers including Prof Richard and Prof Sylvia Creuss, Dr Colm Henry, Prof Samuel McConkey and an international panel of speakers from Canada, USA, UK, UAE and Ireland!
There will be a mix of researcher, policy and health-care professional speakers and this is set to be a very interesting event!
Registration is FREE!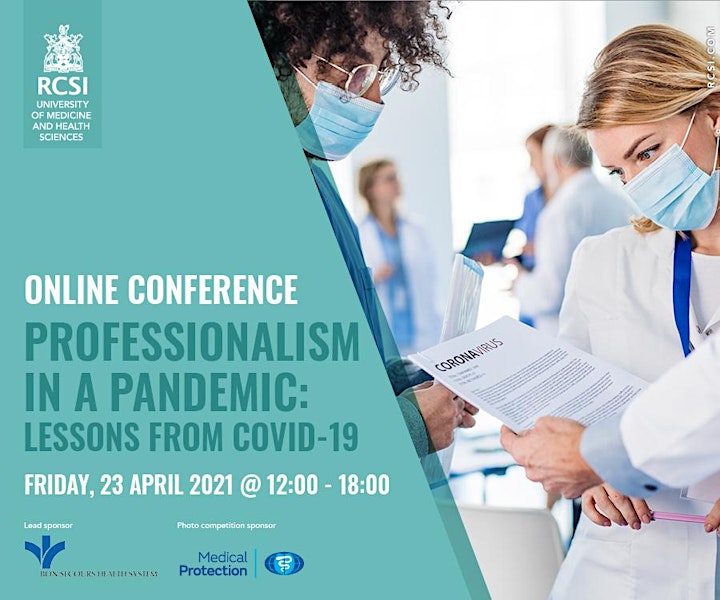 Professionalism in a Pandemic - Pandemic in Pictures
RCSI Medical Professionalism Conference 2021 - Photography Competition
Enter our Photography Competition for your chance to win some amazing prizes!!
Pandemic in Pictures – a photo which symbolises: integrity, compassion, altruism, excellence, teamwork, respect or trust. We want to see your selfies, landscapes, portraits etc of life in a Pandemic. Submit your 'Pandemic in Pictures' to professionalism@rcsi.ie for a chance to win some great prizes!
• Grand Prize: Macbook Air
• Highly Commended 1st Prize: Apple iPad
• Highly Commended 2nd Prize: €250 Charity Donation*
Submissions Details: Submit your 'Pandemic in Pictures' to professionalism@rcsi.ie
Further information - See below
Terms and Conditions - https://www.rcsi.com/dublin/news-and-events/events/event/2021/medical-professionalism-conference