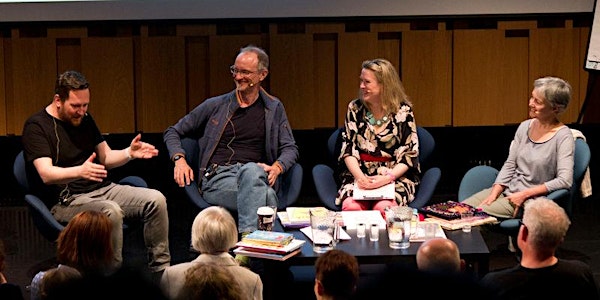 #ProperBook 2021 Is It Me You're Looking For?
#ProperBook 2021 Series -Is It Me You're Looking For? How to Write a Cracking Children's Book and Attract a Publisher or Agent.
About this event
#ProperBook 2021 Series
Is It Me You're Looking For?
How to Write a Cracking Children's Book and Attract a Publisher or Agent
Presented by Children's Books Ireland and WonderFest, the Online Children's Book Festival
Delivered via Zoom Webinar, please note this event is a live zoom event and will not be recorded.
Have you ever thought about writing for children but don't know where to start? This webinar is for you - part of the #ProperBook 2021 series of practical events and workshops for new and emerging children's writers and illustrators.
Discover what agents and publishers are looking for when it comes to children's books, the recommended word count for a picturebook, how long a middle grade novel should ideally be, and hear from a wide range of book industry experts on all aspects of writing and publishing for children.
Plus hear an award-winning children's writer and illustrator talk about how they got published and give tips for new writers and illustrators.
Come with questions and leave with answers!
This event was programmed by Sarah Webb, WonderFest's Programmer.
Children's Books Ireland
Children's Books Ireland is the national books organisation of Ireland. Through their many activities and events they aim to engage young people with books, foster a greater understanding of the importance of books for young people and act as a core resource for those with an interest in books for children in Ireland.
One of their missions is to champion every child's right to excellent books and live literature events and support the artists who make that goal possible across the island of Ireland.
www.childrensbooksireland.ie
WonderFest
WonderFest is an online children's book festival which aims to celebrate and promote Irish books. It was set up in 2020 and is run by a team of Irish children's writers and illustrators. WonderFest 2021 will take place from 17th to 21st November with a range of events for schools, families and a new strand called 'WonderFest Inspires' which will feature webinars and masterclasses for new and emerging children's writers.
www.wonderfest.ie
5.50pm Join Our Webinar
6.00pm
Welcome by Aoife Murray, Programme and Events Manager, Children's Books Ireland
6.05pm to 6.25pm
A Whistle Stop Tour of The World of Children's Books: From Picturebooks to YA (Young Adult)
Lorraine Levis, author and Key Account Executive for Penguin Random House Children's Books
A whistle stop tour of Irish and international children's books - different age groups, forms, word counts and genres.
6.25pm to 7.15pm
What Are Children Reading? Trends and Perennial Favourites in Children's Books
Chair: Sarah Webb, Children's Writer and Book Event Programmer
Charlotte Eyre, Children's Editor, The Bookseller magazine
Lorraine Levis
Trish Hennessy, Owner of Halfway Up the Stairs Children's Bookshop
What children are currently reading, buying in bookshops and borrowing from libraries. And what's coming next? Our panel will also predict some future trends in children's books.
5 minute break
7.20 to 7.40pm
How a Book is Created from Start to Finish
Bad Panda with Swapna Haddow and Sheena Dempsey
Chair: Patricia Forde, Award-winning children's writer and Chairperson of CBI
Swapna will talk about her new novel for children of age 7+, Bad Panda, illustrated by Sheena Dempsey and the different stages of its journey to publication, from idea to finished book.
Sheena will talk about how she created the illustrations for the book.
7.40pm to 8.30pm
What are Publishers and Agents Looking For?
Aoife Murray from Children's Books Ireland talks about the world of agents and publishing with some experts from the children's book business.
Polly Nolan, PaperCuts Literary Agency & Consultancy Ltd
Catherine Gough, HarperCollins
Eoin O'Brien, The O'Brien Press
Biographies of the Speakers
Sheena Dempsey is an award-winning children's book illustrator. She has illustrated numerous books for children, including Yoga Babies by Fearne Cotton, Mermaid School by Lucy Courtenay and the Dave Pigeon series by Swapna Haddow. She lives in Folkestone with her husband and their beloved elderly greyhound, Sandy.
Charlotte Eyre is the children's editor of The Bookseller magazine, the UK's biggest book trade publication, and writes about authors, illustrators and book industry trends. She programmes the Bookseller Children's Conference, an annual event that welcomes members of the book trade from the UK and internationally, and is the presenter of Chapter and Verse: The Art of Selling Children's Books, a podcast produced by Rocket. Charlotte has judged a number of book prizes, including the Costa Book Awards and the British Book Awards, and has appeared on radio programmes on BBC Radio 4 and RTE.
Catherine Gough has been working in the Irish publishing industry since 2008. She joined HCI in March 2021 from Gill Books, where she was Head of Editorial Development. She has worked on a number of bestselling and award-winning titles in fiction, non-fiction, children's and cookery.
Swapna Haddow is a multi award-winning children's author who loves to write about boisterous animals that cause mayhem. She is currently working with Faber & Faber, Scholastic, Oxford University Press and Macmillan to make sure mean cats, grizzly bears and big-hearted little rabbits find their place on the bookshelves.
Swapna also writes under the pseudonym 'Swapna Reddy'. She now lives in Dunedin, New Zealand with her husband and son, and their dog, Archie.
Trish Hennessy is the owner of Halfway up the Stairs, a children's bookshop in Greystones, Co Wicklow. She has been a bookseller for many years and is passionate about children's books. Halfway up the Stairs opened in October 2019 and has adapted to trading behind closed doors, still bringing a personal touch to all transactions - online and over the phone. Halfway up the Stairs has been recently nominated for Children's Bookseller of the Year in Ireland and the UK.
Lorraine Levis is the author of Once Upon a Reader: Raising Your Children with a Love of Books and a Key Account Executive for Penguin Random House Children's Books.
Polly Nolan moved to agenting in 2013 after almost twenty years' commissioning and editing children's books at some of the UK's top publishing houses and quickly built a talented and successful list of clients. In 2020, she started her own agency and consultancy, PaperCuts Ltd, which represents authors writing for children from age five to YA as well as offering advice to anyone needing help with their work. Always on the look out for a good story, arrestingly told, Polly has a particular love of MG, especially MG that makes people laugh.
Eoin O'Brien has edited many books, mostly for The O'Brien Press – everything from children's picture books to historical fiction, novels, biography, history, architecture, music, nature, crosswords and humour. He has written three himself: Symbols of Ireland, Best-Loved Irish Ballads and Flossie McFluff: An Irish fairy. He is also a songwriter, musician and illustrator.