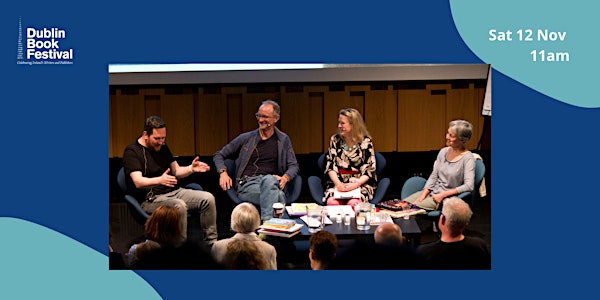 ProperBook: Words and Pictures Picturebooks, Comic Books and Graphic Novels
ProperBook: Words and Pictures - An author event for those creating Picturebooks, Comic Books and Graphic Novels
When and where
Location
LexIcon Library and Cultural Centre Queen's Road Dublin Ireland
About this event
This event is in partnership with Children's Books Ireland and supported by dlr Libraries
Programming by Sarah Webb and Alan Nolan.
With Sarah Webb, Alan Nolan and Aoife Murray in conversation with Bruno Batista, Helen Carr, Andrew Donkin, Aoife Dooley, Sarah McIntyre and Lydia Silver.
Are you interested in writing or illustrating a picturebook but don't know where to start? Do you have an idea for a graphic novel for young readers and want to know how to progress? Or would you like to find out more about how comic books work and how you can share them with children at home or in the classroom? This practical, information-packed event is for you - part of the #ProperBook series of events and workshops for new and emerging children's writers and illustrators and all those who love children's books.
Find out how award-winning author/illustrators create their picturebooks and graphic novels, what the current trends are in children's books, and how to submit your manuscript to agents or publishers.
Hear from experts in the field – editors, agents, writers and illustrators and find out how Children's Books Ireland can help and support new writers and illustrators.
Come with questions and leave with answers!
Children's Books Ireland is the national books organisation of Ireland. Through their many activities and events they aim to engage young people with books, foster a greater understanding of the importance of books for young people and act as a core resource for those with an interest in books for children in Ireland.
One of their missions is to champion every child's right to excellent books and live literature events and support the artists who make that goal possible across the island of Ireland.
Helen Carr is a Senior Editor at The O'Brien Press, an independent Irish children's publisher. She has always been interested in the book world and has blogged about and reviewed books for many years. She edits a broad range of bestselling fiction and non-fiction for adults, young adults and children. She loves meeting authors, talking about their books and their characters, getting a feel for the book and how she can work on it to shape it.
Andrew Donkin has sold over ten million copies of his books and graphic novels around the world. Not personally, these days he has nice people that do the selling for him. His graphic novel, Illegal, co-written with long term collaborator and friend, Eoin Colfer, dealt with the issue of illegal migration and was an award-winning bestseller. He's also written for comic franchises such as Batman, Superman and Doctor Who.
Aoife Dooley is an award-winning illustrator, author and comedian. Her first graphic novel for children, Frankie's World about growing up as an autistic teenager in Dublin (among other things!) won wide critical acclaim and has recently been published in the US. Aoife openly shares her experiences of being diagnosed as Autistic at the age of 27, neurodiversity and how a diagnosis helped her to truly understand herself.
Sarah McIntyre is an multi-talented award-winning illustrator and writer. Sometimes she writes and draws picture books and comics herself (like Grumpycorn), sometimes she illustrates books for other people, including Giles Andreae, Alan MacDonald, Gillian Rogerson, Anne Cottringer and Claire Freedman. When she makes books with Philip Reeve, they both brainstorm the story ideas together, then Philip writes them and Sarah illustrates them. But occasionally they swap roles for a bit. Sarah also creates comic books for children, like Vern and Lettuce.
Aoife Murray is Programme and Events Manager for Children's Books Ireland. She holds an MPhil in Popular Literature from Trinity College. She has worked at Children's Books Ireland since 2012, working in public relations previously. Aoife lives in Dublin with her husband and son.
Alan Nolan is the author and illustrator of Fintan's Fifteen, Conor's Caveman and the Sam Hannigan series, and is the illustrator of the popular Gordon's Game books written by Gordon D'Arcy and Paul Howard. Alan's latest books, Sam Hannigan and the Last Dodo, and Animal Crackers (with Sarah Webb) are both out now, and his forthcoming historical novel, The Sackville Street Spooks will be out this autumn from The O'Brien Press.
Lydia Silver started her career in the editorial team at Egmont, where she commissioned books such as the Carnegie Medal-winning The Poet X. She joined the Darley Anderson team in 2018 and is building an engaging and diverse list of authors and illustrators. With experience on both sides of the commissioning desk, Lydia loves working editorially with her clients and developing ideas from an initial spark into a full manuscript.
Sarah Webb is an award-winning children's writer and creative writing teacher. She creates children's book events for various book festivals and works with MoLI (Museum of Literature Ireland), programming their family events. She is also Events Manager at children's bookshop, Half-Way Up the Stairs. Her latest book is Be Inspired: Young Irish People Changing the World, illustrated by Graham Corcoran.