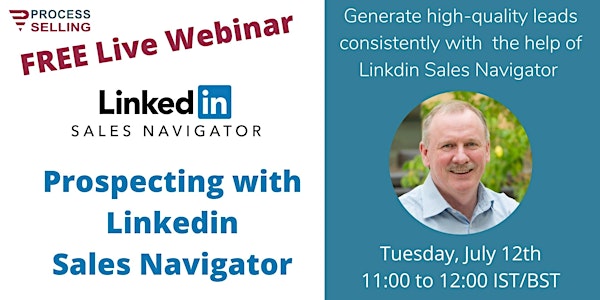 Prospecting with Linkedin Sales Navigator
Generate high-quality leads consistently through an outbound approach using Sales Navigator as a target list.
About this event
Are you struggling to reach your sales targets every month or quarter?
Is your pipeline lacking the number of qualified leads required?
Is your Inbound strategy delivering the wrong type of leads?
The #1 challenge for most B2B businesses is to consistently generate enough qualified sales leads to achieve sales targets. An outbound sales strategy is a sure way of finding the customers you want, but outbound requires a target list, and Sales Navigator provides that in abundance.
Use Sales Navigator to filter down to your ideal target profile and begin to target them in a structured way that will provide you with a continuous stream of new prospects.
- Find your ideal target companies and people
- Save and organise qualified targets
- Gain valuable insights on account and profile pages
- Make valuable connections, building your audience every day
- Engage prospects that feed your sales pipeline
- Track your activities so that you don't miss anyone or duplicate effort
Facilitator:
Brendan Dunne, Founder of Process Seling, is a Sales Leadership Coach with over 35 years of Solution Selling and Sales Management experience. Process Selling provides Business Owners and Sales Leaders with the Structures, Sales Methodology Training, and Tools required to establish an effective Sales Function that will deliver continued success to the business.
What others say about us:
"We began to use the services of Process Selling in 2017 and immediately found a markable improvement in how our salespeople approached their work. It's evident that Brendan has a great deal of experience in selling situations and can adapt to the challenges faced by the team.
Our business is very competitive, so we need every advantage. The Process Selling methodology helps us to stay focused on what's important to our customers and as a result, we are closing more deals.
We continue to engage Brendan to keep the momentum going and I would highly recommend him to any sales organisation wishing to improve its position."
Dave McEvoy, Managing Director, DMAC Media
"From the initial discovery session, Brendan's experience as a facilitator and senior manager became apparent. His pragmatic nature and objective point of view helped greatly in devising a new sales strategy.
Within months my business has seen a 10% increase in sales revenue. The business has a clear line of sight in targeting key clients, using the correct approach with articulated messaging. This really is working smarter, not harder. I highly recommend Brendan for his skills, knowledge, and professionalism."
Eoin Daly, General Manager, Snap (Naas Road & Blanchardstown)