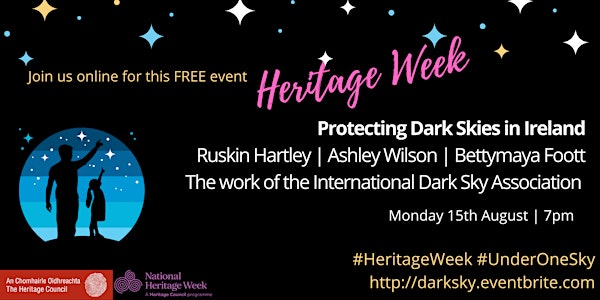 Protecting Dark Skies in Ireland
Protecting Dark Skies in Ireland - International Dark Sky Association
About this event
Want to get involved in addressing light pollution in your community so you can save energy, protect biodiversity, and see the stars?
Join our Heritage Week webinar with the International Dark Sky Association
Here at Dark Sky Ireland, our committee has been making significant strides to develop a national organisation for dark skies, supported by the Heritage Council. We plan to support local groups in their efforts to protect the night from light pollution and hope you will join us in this movement to protect and preserve Ireland's night skies.
Artificial light at night has revolutionised the way we live and work outdoors. However, when used indiscriminately, outdoor lighting can become light pollution with unintended consequences such as; disrupting wildlife, impacting human health, wasting money and energy, contributing to climate change, and blocking our view of the universe.
Since 1988, the International Dark Sky Association (IDA) has led a global movement to protect night from light pollution. As part of our Heritage Week celebration, three representatives of the IDA will be presenting topics on the work of the organisation and its global efforts to protect our night-time environment for all living things."
Our programme of 3 short talks will introduce the work of:
Ruskin Hartley | CEO & Executive Director
Ruskin will explain the work of the International Dark Sky Association in tackling light pollution globally and how the organisation has grown with a dedicated team of expertise, supported by international research.
Ashley Wilson | International Dark Sky Places Program Lead
Ashley will discuss the programme established for dark sky places and communities to achieve international accreditation. As well as the process for accreditation, she will speak briefly about the ongoing commitments required to maintain an international dark sky accreditation.
Bettymaya Foott | Director of Engagement
Bettymaya will talk about her work in developing tools and a knowledge base for advocates around the world, including the resources available to communities and individuals to help tackle light pollution and to get lighting right.
After the talks our three speakers will be happy to answer any questions you may have."
Meet our speakers:
Ruskin Hartley | CEO & Executive Director
Ruskin Hartley is the Chief Executive Officer and Executive Director at the International Dark-Sky Association. In this role, he champions equitable access to dark skies and quality lighting for all through IDA's award-winning programs. Ruskin works closely with volunteer leaders and donors to secure increased support for our priorities around the world. Ruskin believes that experiencing a dark sky, and appreciating quality lighting, are essential to IDA's mission. Originally from the United Kingdom, Ruskin holds a bachelor's degree from the University of Cambridge and a master's degree from The University of East Anglia. Ruskin loves to head out on the trail with his wife and kids or cook under the stars.
Ashley Wilson | Director of Conservation and International Dark Sky Places Program Lead
Ashley's passion for encouraging people to learn and care about the world around them led her to pursue an undergraduate degree in Ecology and Evolutionary Biology with Honors from the University of Arizona and later a master's degree in Biological Sciences. During this time, Ashley provided multiple town hall presentations to educate citizens on how their use of lighting can impact the nighttime environment, nocturnal animals, as well as their own health. To increase her knowledge on lighting retrofit projects, Ashley also completed her lighting specialist professional certification through the National Association of Innovative Lighting Distributors. As Director of Conservation and lead of the International Dark Sky Places Program, Ashley collaborates with advocates and volunteers to help them promote effective uses of outdoor lighting and protect pristine dark skies around the world.
Bettymaya Foott | Director of Engagement
Bettymaya Foott's childhood was filled with hiking, camping, boating, and wandering in the desert, both below the hot sun and under clear dark skies. She graduated from the University of Utah Honors Program with an H.B.S. in Environmental and Sustainability Studies and a Minor in Spanish Language and wrote a thesis entitled "Light pollution hazards within ecosystems and mitigation strategies for the future." Her dark sky career began with working for Utah State Parks as a Dark Sky Intern and then seasonal employee, starting 12 International Dark-Sky Park Applications across the state. She then worked as coordinator for the Colorado Plateau Dark Sky Cooperative and the Consortium for Dark Sky Studies at the University of Utah. Now, she is incredibly excited to join the team at IDA as Director of Engagement. When off the clock, Foott loves to practice night sky photography. Preserving dark skies is her life goal and she is incredibly excited to continue this journey of saving the stars!
Contact Info:
Dark Sky Ireland
Mayo, Ireland
info@darksky.ie
We are proudly supported by the Heritage Council.