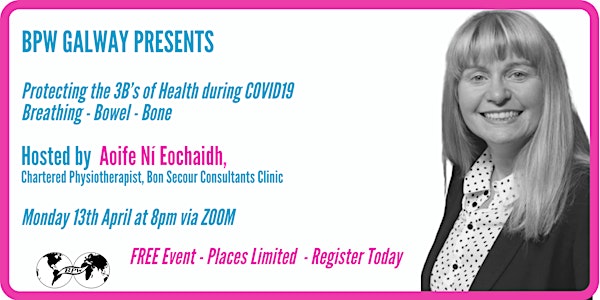 Protecting the 3B's of Health; Breathing, Bowel & Bone During COVID19.
BPW Galway Presents - Protecting the 3B's of Health; Breathing, Bowel & Bone during COVID19 with Aoife Ní Eochaidh
About this event
Join our second virtual event with BPW Galway member & guest speaker Aoife Ní Eochaidh, Chartered Physiotherapist, Bon Secour Consultants Clinic. Aoife will guide attendees through some top physiotherapy tips for optimal breathing, bowel and bone health during the COVID19 crisis.
Staying fit & healthy is crucial to our physical and mental health during this time period. Aoife will give advice on breathing exercises, good postures and how to keep chest secretions moving to keep the airways clear. Pelvic physiotherapy for constipation, obstructed defecation and other gut symptoms will be highlighted. Keeping our bones strong and healthy when self-isolating will also be discussed.
This event is free to attend, open to all and will take place over ZOOM. The link to join the webinar will be circulated in advance of the 8pm start time to all registered attendees.
The event is limited to 100 and is expected to be filled quickly.