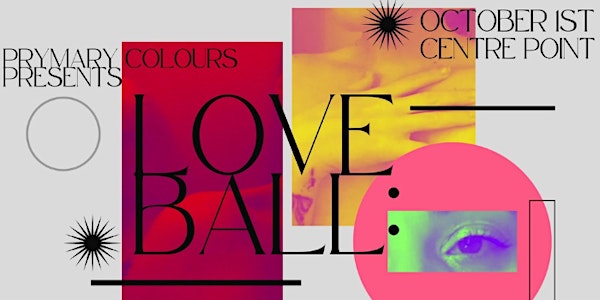 PrYmary Colours presents The Love Ball
Let us tell you a story about love...
When and where
Location
Centre Point Crow Street Dublin Ireland
About this event
PrYmary Colours
Claire Beck
Shaqira Knightly
C.S. Lewis
Minikimono
Dave Kerr
Harry Jones
Lucas (ÁGF)
Snakebite 616
darktrax
The Love
There are millions of beautiful souls in this world, and music reaches us all, making us feel good. It's a non lethal weapon that heals wounded hearts. It's a gender neutral, non religious tongue that bridges gaps, eliminates political divides, overcomes racial barriers. It feeds our spirits, bringing people from all walks of life together as one.
Together on the dance floor let us channel the divine, the sublime, the passionate, the sweet joyous over the top, head over heels kind of love. Let's hold space, let's create space to light each other up, with confidence, trust, freedom and respect. So that we can spread love like a tsunami across the city, lighting up the hearts of everyone we encounter. Because if there's one thing this beautiful planet needs, it is more LOVE. And it starts with you, with us, right now.
Let us take you to the real church, the real congregation of music, art, fashion, culture, self expression, self love, love for one another. Your brothers, your sisters, your others, your (chosen) family, we come together as one. Let us take you to the Love Ball.
An evening of art, music, culture, dance, fashion & radical self expression, inspired by some of our collaborations with the best clubs in New York city. Let us bring a little slice of New York to you.
The Vibe
This is a fancy dress party. What to wear, you say? We are here to celebrate the most important person on this planet. YOU. So wear whatever makes you feel like the most boss, bad ass, loved up, liberated, camp, sexy, cute, comfortable version of you. Still struggling for inspiration? Don't worry we'll have a mood board coming your way soon, and links on where to shop local for some cute low costs, low impact threads. We got you.
There will also be a face painting station there on the night, for anyone who needs some extra glam!
Note: This is a queer friendly space. No respect. No entry.
What, where & who to expect…
Main Room : The House Of Love
Love yourself walk-off
- What's this you say? A chance to dress to express, and pull shapes to impress. Get ready to walk the catwalk of your life. VOGUE! Grab that limelight. Love yourself. Let others bask in your light. As we offer up a runway for everyone, to walk on, stomp down, prance on, dance on, build your confidence on and find love on. We'll supply the runway and the music, and you bring yourself. We live to express not repress up in this house.
- Our MC will encourage your strut. Spot prizes for best catwalk, best dance of and best self expression.
- Followed by DJs and a spectacular performance from PrYmary Colours to close out the night.
Music : Disco, afro synth, italo, funk, house & classics.
Main Room Acts:
Shaqira Knightly
C.S. Lewis
Minikimono
Claire Beck
PrYmary Colours
Crowbar: The Love Nest
- Find love at the bar. Get down and dirty. Get cute and flirty.
It's all here for you in our secret techno love nest.
- DJ's providing a sexy audio backdrop to an energetic bar space.
Music: Techno, dub tech, tribal techno, deep house & more.
Crowbar Acts:
Dave Kerr
Harry Jones
Lucas (ÁGF)
Snakebite 616
darktrax
Live & Let Love.
Brought to you by PrYmary Colours, HotHouse Label + Extended Family
Hosted by Centre Point club.