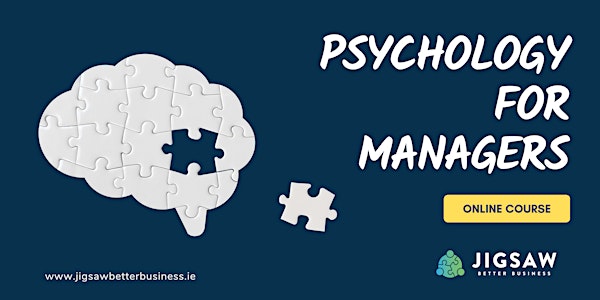 Psychology for Managers
Invest in yourself to become a more effective leader or manager by better understanding behavioural science.
Refund Policy
Contact the organiser to request a refund.
About this event
A lot has changed in the world of work in a very short space of time. If you engaged in management training several years ago, you may now find they need to update or refresh your approach, to cope with the changing environment and challenges. If not, you take the risk of falling behind.
This programme is ideal for leaders, managers, or aspiring leaders/managers who want to improve their skills and enhance their performance and effectiveness. It highlights not only the latest business thinking, but the future of business and leadership. It draws on research from organisational psychology and behavioural science.
It adopts a blended approach of self-paced eLearning modules, and live online workshops once a week with other leaders and managers. Each workshop is 2.5 hours long, except for the last one which is 2 hours long.
While the focus of this programme is on developing and using skills in one's professional life, there are generally benefits to learner's personal lives too, for example how they interact with their children, communicate with their partner, or handle personal problems.
Who is this for?
This is ideal for leaders or aspiring leaders with an interest in psychology who want to learn how to apply research and best practice to enhance their performance and effectiveness.
This is for you if you would like to:
• Enhance self-awareness
• Understand how to better motivate and influence others
• Create more engaged, inclusive teams
• Make better decisions
• Build trust and collaborate more effectively
• Feel better equipped to handle stress and change
• Learn from experts and from other leaders
Time commitment:
2 hours for eLearning modules (self-paced)
14.5 hours over 7 weeks to attend live group training
Total: Under 17 hours (over 2 months)
Schedule:
Workshop 1: 6th October 2022
Workshop 2: 13th October 2022
Workshop 3: 20th October 2022
Workshop 4: 27th October 2022
Workshop 5: 3rd November 2022
Workshop 6: 10th November 2022
Testimonials:
"The tools and methods that Julie shares are so valuable for all businesses to help us work better together. These sessions are inspirational. The group dynamic that she's created is also wonderful. Julie is an excellent trainer and breaks down all these ideas to be so digestible & easy to put into action." – Rosie Mansfield, Managing Director
"Julie facilitated the group to share and learn from each other but also covered good tips for all areas. Julie delivered the course in a very professional and friendly manner and allowed all participants to feel comfortable in their own space." – Yvonne Sheehan, Managing Director
"Clear engaging delivery, interactive, fulfilling, Julie imparted the course content in a very professional practical and warm way, to encourage and whet the appetite for learning." – Emma Plant, vet and business owner
For any further information: Please contact Julie@jigsawbb.ie or hello@jigsawbb.ie