Public and Patient Involvement (PPI) in Health Economics Research
Description
PPI in Health Economics: Challenges and Perspective
With the increased emphasis on ensuring that the voice of the public and patient shapes health research, it is timely to explore what exactly PPI means for health economics research and for health economists.
This one-day seminar encourages participants to think about:
Why is involving patients and public in health economics research important?

What value can PPI bring?

How can PPI in health economics research be evaluated?

Is there a role for the public and patients in Health Technology Assessments?
Audience: Health economists, other health researchers, practitioners from the medical device and pharma industries, and policy-makers. If you are a member of the public and wish to find out more information before signing up, please call Michelle on 085-1614345.
Objectives of the day:
By the end of this training event, participants will:
Understand what PPI is

Be familiar with different approaches taken to date to include PPI in health economics research nationally and internationally

Be aware of different methods that can be used to evaluate the impact of PPI in research

Know about the current level of PPI in health technology assessment

Be well positioned to begin to integrate PPI in their own research
Seminars topics and speakers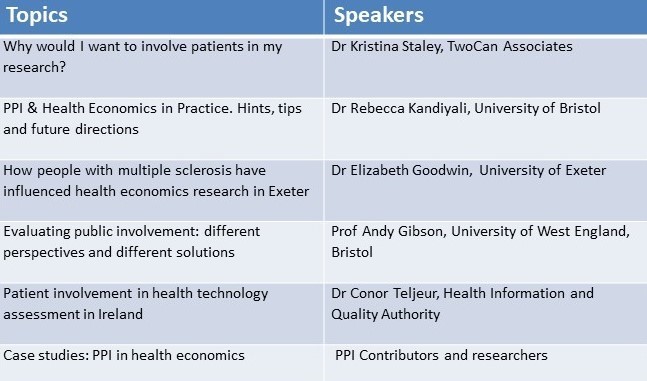 The Health Economic and Policy Analysis Centre, with PPI Ignite @ NUI Galway, are delighted to host this seminar.
This seminar is funded through the HRB Conference and Events Sponsorship scheme.